Whatever Happened to the Demon with a Soul? is the 5th issue of the Charmed comics: Season 10 and was published by Zenescope Entertainment.
Summary
For a complete plot of Whatever Happened to the Demon with a Soul?, go

here

.
After the devastating events of last issue, the Charmed Ones' lives are changed forever. Left to pick up the pieces, the survivors must bring the Ancient Athame to Prue... but to what end? Cole makes a decision.
Characters
Main
Returning
Non-Speaking
Magical Notes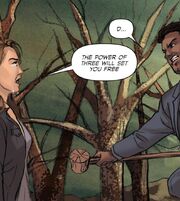 Depowering Spell
He who bears the ancient blade
We bid his stolen power fade
Return to ash, and magic drain
From this lesser demon's veins
The Power of Three releases thee
The Power of Three will set you free.
Powers Used
Artifacts
Notes and Trivia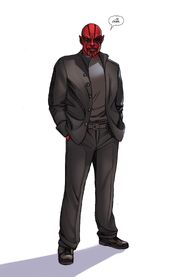 Gallery
Previews
Community content is available under
CC-BY-SA
unless otherwise noted.