The
Valkyries
are a powerful race of
Demi-Goddesses
, who scout battlefields for honorable powerful soldiers and then take their souls to their home
Valhalla
, where they are brought back to life and train for the
Final World Battle
. They are forces of good tasked with preparing warriors to fight on the side of good when the final battle between good and evil comes.
History
Holding Leo Hostage
Some time after coming to the past,
Chris Perry
makes a deal with the Valkyries to hold
Leo Wyatt
hostage for him. After Chris sends him to
Valhalla
, the Valkyries trap him in an arena and use him as a gladiator to test their warriors.
When they learn that Leo is missing, Phoebe and Paige are able to track him. Chris then provides them with Valkyrie Pendants by killing three Valkyries, including one named Leysa. The sisters then travel to Valhalla and manage to free Leo. However, when Piper is confronted with him, her feelings and memories return. She lashes out at him and decides to remain on the island.
Retrieving Their Warriors
When the two sisters and Leo escape the island, three
warriors
follow them. Believing
the Final World Battle
had begun, they start attacking mortals. Meanwhile, the Valkyries discuss what to do with Piper.
Mist
senses she was a Valkyrie, but that it is not pure.
Freyja
decides to accept her regardless.
When the Valkyries learn their warriors are killing mortals, they realize they have to stop them. Piper offers to help, as she is from the city. Once inside San Francisco, they track the warriors to a crime scene. They are then bothered by a group of bikers and they knock them out. Piper then comes up with the idea to blend in by dressing as bikers.
The Valkyries confront the warriors, but they are too confused to believe them. The two groups then fight until Phoebe and Paige arrive. They try to cast a spell on Piper, but it fails and Piper leaves with the Valkyries and the warriors after finally convincing them.
Piper Leaving
The two sisters later follow Piper back to
Valhalla
and cast another spell on her. This time it works and Piper comes to her senses. The Valkyries want to attack Phoebe and Paige, but Piper stops them. She then tells
Freyja
it is time to go home and assures her their secret is safe.
Fighting Zankou
A few Valkyries were recruited to help the Charmed Ones battle Zankou and his demonic forces after he steals the Book of Shadows and takes over the manor.[1]
Book of Shadows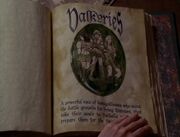 Valkyries
A powerful race of demigoddesses who scout
the battle grounds for dying Warriors then
take their souls to Valhalla where they
prepare them for the final World Battle.
Powers and Abilities
Active Powers
Other Powers
Through their Pendants
Known Valkyries
Notes and Trivia
Gallery
Screencaps
Behind the Scenes
Appearances
Valkyries have appeared in a total of 3 episodes throughout the course of the series.
Charmed

,

Season 6

#01
"Valhalley of the Dolls, Part 1"
#09
"Little Monsters"
#17
"Hyde School Reunion"
#02
"Valhalley of the Dolls, Part 2"
#10
"Chris-Crossed"
#18
"Spin City"
#03
"Forget Me...Not"
#11
"Witchstock"
#19
"Crimes and Witch-Demeanors"
#04
"The Power of Three Blondes"
#12
"Prince Charmed"
#20
"A Wrong Day's Journey Into Right"
#05
"Love's a Witch"
#13
"Used Karma"
#21
"Witch Wars"
#06
"My Three Witches"
#14
"The Legend of Sleepy Halliwell"
#22
"It's a Bad, Bad, Bad, Bad World, Part 1"
#07
"Soul Survivor"
#15
"I Dream of Phoebe"
#23
"It's a Bad, Bad, Bad, Bad World, Part 2"
#08
"Sword and the City"
#16
"The Courtship of Wyatt's Father"
Charmed

,

Season 7

#01
"A Call to Arms"
#09
"There's Something About Leo"
#17
"Scry Hard"
#02
"The Bare Witch Project"
#10
"Witchness Protection"
#18
"Little Box of Horrors"
#03
"Cheaper by the Coven"
#11
"Ordinary Witches"
#19
"Freaky Phoebe"
#04
"Charrrmed!"
#12
"Extreme Makeover: World Edition"
#20
"Imaginary Fiends"
#05
"Styx Feet Under"
#13
"Charmageddon"
#21
"Death Becomes Them"
#06
"Once in a Blue Moon"
#14
"Carpe Demon"
#22
"Something Wicca This Way Goes...?"
#07
"Someone to Witch Over Me"
#15
"Show Ghouls"
#08
"Charmed Noir"
#16
"The Seven Year Witch"
References
Community content is available under
CC-BY-SA
unless otherwise noted.