To Extract Knowledge is a ritual written in the Warren Book of Shadows.
History
Prue and Piper Halliwell once considered using this spell to extract the knowledge of Eric Bragg, an innocent being hunted by the Collectors for his knowledge concerning the location of the Akashic Records. However, they never used the spell.[1]
Appendices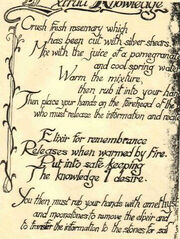 (Book of Shadows text:)
To Extract Knowledge
Crush fresh rosemary which

has been cut with silver shears.

Mix with the juice of a pomegranate

and cool spring water.

Warm the mixture,

then rub it into your hands.

Then place your hands on the forehead of the one

who must release the information and recite...
Elixir for remembrance

Releases when warmed by fire.

Put into safe keeping

The knowledge I desire.
You then must rub your hands with amethysts

and moonstones to remove the elixir and

to transfer the information to the stones for safe keeping.
Notes
A scan of the page was made when the stand in-book, containing information from the first three seasons, was sold at an auction.
References
Community content is available under
CC-BY-SA
unless otherwise noted.