"You'd think the magical community could find maybe something else to give to the baby."
—Piper Halliwell talking about the community.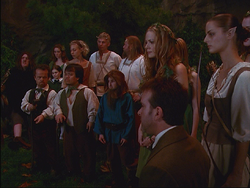 The Magical Community is a term used to refer to the community of good magical beings living in the world, magical realms and other planes. These beings are known to regularly interact with each other and come together in times of need.
Members of the Community
Notable Incidents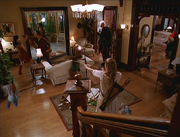 Notes and Trivia
Out of all members of the community, the Leprechauns are the most recurring with a total of 12 appearances. Fairies come second with 10 appearances.
While beings such as Fairies and Trolls appeared first in Season 3, the magical community started expanding more rapidly in Season 5, when the show became more fantasy-oriented.
While most members of the community are on the side of good, some can be evil as well. Notable examples are the Source's Oracle and the evil Trolls that appeared in "Once Upon a Time".
Gallery
References
Community content is available under
CC-BY-SA
unless otherwise noted.