T.W. King (Theodore William King) is an American actor. He portrayed Andy Trudeau in Season 1 of Charmed as a main cast member.
Biography
Ted King was born in Hollywood, California, USA on 1 October 1965, Hollywood, California, USA. He was raised in both Bethesda, Maryland, and Los Angeles, California. He also spent time in New York where he attended the Tisch School of the Arts at NYU and studied film direction.
King co-founded the Portal Theatre Company in New York City and has been a strong presence in New York Theatre for several years. King worked as a film and video editor before landing his first leading acting role.
Ted first appeared in the television soap Loving, also known as The City from 1995 until its cancellation in March 1997. In 2002, Ted returned to soaps as Luis Alcazar on General Hospital for a few months in 2002 until his character was murdered by Alexis Davis (Nancy Lee Grahn). In 2003, he returned to General Hospital as Luis' twin brother, Lorenzo Alcazar, a powerful, well connected and shady mobster/tycoon. He exited the role in 2007, when the character was killed.
He has had guest-starring roles on such series as Frasier, Sex and the City and Law & Order: Special Victims Unit, among many others.
His feature film credits include The X-Files movie and a role in the independent feature film "Hoodlum & Son". In March 2007 he got engaged to his girlfriend, Maya Rodwell. They were married on September 14, 2008.
Career
Loving (1995-1997)
Time Cop (1997)
The X-Files Movie (1998)
Blade (1998)
Charmed (1998-1999)
JAG (2000)
Sex and the City (2001)
Law & Order: Special Victims Unit (2001)
Impostor (2001)
Glory Days (2002)
Frasier (2002)
The Division (2003)
General Hospital (2002-2007)
Prison Break (2008-2009)
Shouting Secrets (2011)
Gallery
Notes and Trivia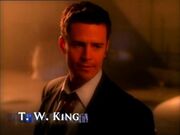 External links
Community content is available under
CC-BY-SA
unless otherwise noted.