"Due to its intensity and the frequency of the emissions, I thought it was the Crystal of Kasimar, but it's more powerful than that. The Golden Belt of Gaea."
—Sollal discovering the awakening of Hippolyta's belt.
Sollal was a low-level demon who was the henchmen and counsel of Zira.
History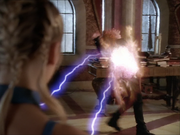 Sollal sensed the activation of the Golden Belt of Gaea from afar when Billie Jenkins put it on, and realized what magical object it was after some research. Later, he showed a book about the belt to Zira and advised her on getting close to the host before the belt kills her and have her destroy Tai. He was vanquished by Billie while she was wearing the belt under the instruction of Zira, who no longer found him useful.
Powers and Abilities
Active Powers
Sensing: The ability to sense the location of other beings or artifacts. Sollal was able to sense the Golden Belt of Gaea was activated.
Appearances
Sollal appeared in a total of 1 episode throughout the course of the series.
Charmed

,

Season 8

#01
"Still Charmed & Kicking"
#09
"Hulkus Pocus"
#17
"Generation Hex"
#02
"Malice in Wonderland"
#10
"Vaya Con Leos"
#18
"The Torn Identity"
#03
"Run, Piper, Run"
#11
"Mr. & Mrs. Witch"
#19
"The Jung and the Restless"
#04
"Desperate Housewitches"
#12
"Payback's a Witch"
#20
"Gone with the Witches"
#05
"Rewitched"
#13
"Repo Manor"
#21
"Kill Billie: Vol. 2"
#06
"Kill Billie: Vol. 1"
#14
"12 Angry Zen"
#22
"Forever Charmed"
#07
"The Lost Picture Show"
#15
"The Last Temptation of Christy"
#08
"Battle of the Hexes"
#16
"Engaged and Confused"
Community content is available under
CC-BY-SA
unless otherwise noted.