The
ninth season
of
Charmed
is a comic book series that is published monthly by
Zenescope Entertainment
, which owns the publishing rights to the
Charmed comic book series
. The first issue was released on July 21, 2010. The series finished with the season finale, "
The Power of 300
", on October 3, 2012.
Charmed: Season 9 has been published in 24 individual issues and 4 collected volumes (the first including a bonus story).
In May 2012, it was revealed that after Issue 24, Charmed would go on a hiatus to prepare for an upcoming Season 10. Two years later, the tenth season was announced with the first issue appearing on October 9, 2014.
Summary
The Girls are back in town! The Charmed Ones return in this brand new fantasy series from Zenescope that picks up where the series left off. Claiming their victory in the battle against evil, Piper, Phoebe and Paige were free to settle into the future with their husbands and children, destined to live out the happily ever after they had so rightfully earned... or so they thought.
Characters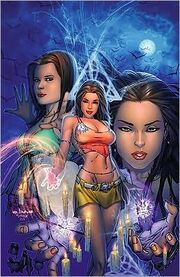 Main characters
Recurring Characters
Notes and Trivia
Bonus stories: "To The Warren Born" 
Piper appeared on 20 covers while Paige and Phoebe only appeared on 19 covers.
This was the first season that did not involve Time Travel.
The only season where no vanquishes occurred in the Manor.
Videos
Publication
Issues
Issue in series
Issue in season
Title
Written by
Penciled by
Original Release Date
Volume 1
0
0
"The Sourcebook"
Paul Ruditis & Raven Gregory
Dave Hoover
June 16, 2010
The Sourcebook is a prequel to the comic series with selected texts from the Book of Shadows, short biographies of each Charmed One and a preview of what's to come in the first issue "Charmed Lives".
1
1
"Charmed Lives"
Paul Ruditis & Raven Gregory
Dave Hoover
July 21, 2010
The Girls are back in town! The Charmed ones return in this brand new fantasy series from Zenescope that picks up where the series left off. Claiming their victory in the battle against evil, Piper, Phoebe, and Paige were free to settle into the future with their husbands and children, destined to live out the happily ever after they had so rightfully earned...or so they thought.
2
2
"No Rest for the Wicca"
Paul Ruditis & Raven Gregory
Dave Hoover
September 1, 2010
As the Charmed Ones go about settling into their new lives, forces from the Underworld prepare to unleash a power that will destroy the sisters once and for all. Meanwhile, Paige accepts a new position and learns the hard way that teaching isn't the easiest job...Phoebe and Piper attend the funeral of Brittany, the first innocent they ever saved, only to find that her death may herald the beginning of something terrifying that will endanger the lives of all the innocents and the Charmed Ones themselves.
3
3
"Innocents Lost"
Paul Ruditis & Raven Gregory
Dave Hoover
October 6, 2010
Someone...or something is hunting down the innocents that have been saved by the Charmed Ones and murdering them in cold blood. As Piper, Phoebe and Paige race to save the remaining innocents, the forces of the underworld continue to gather the last remaining ingredients that will complete the ritual that will bring back the greatest foe the Charmed Ones have ever faced. An enemy so powerful not even the Power of Three may be able to stop it from destroying everyone.
4
4
"Mortal Enemies"
Paul Ruditis
Marcio Abreau
December 15, 2010
To keep them safe from harm, the Charmed Ones bring the remaining innocents back to the manor. But little do they know the Source has returned and cast a spell turning every innocent in the entire city against them... Even as they fight to survive, the Charmed Ones learn that the Source has planned his arrival at the perfect time to destroy the Power of Three once and for all.
5
5
"Unnatural Resources"
Paul Ruditis
Marcio Abreau
January 19, 2011
The Charmed Ones face off against an ancient evil with an army of minions that present Piper, Phoebe, and Paige with their greatest challenge ever. These forces of evil are bent on destruction, tearing apart the Halliwell family, and possibly keeping Piper from ever opening her restaurant.
Volume 2
6
6
"Morality Bites Back"
Paul Ruditis
Tess Fowler
February 16, 2011
Almost a decade ago, Phoebe Halliwell saw a future in which she was executed via incineration in a gas chamber for killing a mortal that murdered her friend. Now as the time approaches for her premonition to play itself out, what can she do, if anything, to stop it? Phoebe questions whether the events are destined to play out the way she saw them or if enough has been changed to save both her friend's life as well as her own. Don't miss this shocking one-shot issue that will have you on the edge of your seat!
7
7
"The Heir Up There"
Paul Ruditis
Marcio Abreau
March 2, 2011
Piper is distraught when she finds out that her baby daughter has the same orbing power as her part-Whitelighter aunt Paige and worries that it could put her children at risk again as it did when Wyatt was born. Leo decides to make a visit to the Elders for an explanation and is given an intriguing offer but one that would seriously affect his future with Piper. Meanwhile, Neena has teamed up with a Darklighter as the two set forth on a Whitelighter killing spree in order to absorb their abilities. Now that she has taken control of the Underworld, Neena has set her sights on the Upper Regions and things are about to heat up!
8
8
"Oh, Henry"
Paul Ruditis
Carlos Granda
March 16, 2011
An innocent homeless teen in San Francisco falls victim to a stray arrow during Rennek the Darklighter's attack on a Whitelighter. The pregnant teen is dead, but Paige manages to save the girl's baby by orbing the child out of the body immediately. Neena finally reveals herself to the Charmed Ones while taking on an Elder directly on the Golden Gate Bridge. During the battle, Neena sends Piper into the dimension that she sent the Angel of Destiny into in Charmed Lives. Phoebe and Paige want to stay to fight the stranger and rescue their sister, but Leo forces them to flee.
9
9
"The All or Nothing"
Paul Ruditis
Dean Kotz
May 25, 2011
With a family member lost, The Elders under siege and an unstoppable force about to wreak havoc on the world, Leo must reveal an ancient secret to The Charmed Ones. They must learn the very source of their craft and the true origins of the magic they possess if they have any chance of defeating their latest threat.
10
10
"Three Little Wiccans"
Paul Ruditis
Reno Maniquis
June 8, 2011
With the Power of Three torn asunder, Phoebe and Paige work to bring their family back together. But a tragically ill-advised plan pulls The Charmed Ones further apart and could leave one of the sisters lost forever.
11
11
"Last Witch Effort"
Paul Ruditis
Tess Fowler
June 22, 2011
Alone. Out of options. Out of time. A decision is made that could affect The Power of Three and irrevocably change The Charmed Ones forever. Humanity hangs in the balance in the coming showdown between good and evil.
12
12
"The Charmed Offensive"
Paul Ruditis
Dean Kotz
July 27, 2011
The Charmed Ones and Leo face down impossible challenges in a battle to reclaim the Heavens, conquer the Underworld, and save the Earth. It's a fight that's been brewing since long before the prophecy of The Charmed Ones was foreseen and building since the first issue of the comic book. When this battle ends, the Charmed universe may never look the same.
Volume 3
13
13
"Piper's Place"
Paul Ruditis
Reno Maniquis
September 7, 2011
Owning a restaurant of her very own has been Piper's dream for years. Now it's finally real. Opening night is a huge success and she's the talk of the town, but the additional workload—along with the magical turmoil of late—has taken a toll on her family life. A child's misguided spell has disastrous results as Piper learns whether or not she can truly have it all while she copes with a situation that would leave other moms quaking in their shoes.
14
14
"Cupid's Harrow"
Paul Ruditis
Dean Kotz
September 28, 2011
Coop is on one of the toughest assignments a Cupid can accept and this time, it comes with unexpected consequences. When Phoebe sees her husband plagued with questions about the family he never met, she tries to help by researching his past, unaware that a mysterious force works against her. As she tries to orchestrate a reunion centuries in the making, she could wind up tearing a family apart.
15
15
"Where There's Smoke There's a Firestarter"
Paul Ruditis
Dean Kotz
October 26, 2011
Trouble comes knocking on Paige's front door when a mysterious fire nearly burns down her house. The nature of the attack suggests a Firestarter, but the real answer might not be that simple. Are The Charmed Ones about to face another threat from the past or is the culprit a more recent addition to their lives? A secret that Piper's been keeping might hold the answer to more than just Paige's question or it could lead to a whole new set of problems instead.
16
16
"The Heavens Can Wait"
Paul Ruditis
Dean Kotz
November 30, 2011
The Charmed Ones embark on a quest to help Leo find the answer to the question that has been plaguing him for months. They will need to call on all of their powers and the bond they share to protect themselves from the dangers that await. Meanwhile, Cole takes an important step in his journey for a different kind of answer.
17
17
"Family Shatters"
Paul Ruditis
Dean Kotz
January 4, 2012
A seemingly innocent encounter will have disastrous effects on The Charmed Ones as the final piece of Rennek's plan falls into place. While Leo goes after his old arch nemesis, Piper, Phoebe, and Paige must deal with a visitor from the past that could destroy their future.
18
18
"Four's Company"
Paul Ruditis
Dean Kotz
January 25, 2012
Demons have the run of San Francisco, Magic School is in turmoil, and Leo is missing (again)! When personal problems intertwine with magical ones, every member of The Halliwell Family is in danger. The Charmed Ones must come together to bring the world back into order while their own magic works to tear it apart.
19
19
"Crossed, Triple-Crossed"
Paul Ruditis
Tess Fowler
March 7, 2012
When a criminal threatens Paige's happy family, she looks to her past to deal with the mortal menace. Conjuring up a detective from one of her favorite noir novels, Paige creates a street smart gumshoe to help set up a sting and take down the hood. But when the fictional private Dick decides he likes life outside the pages, the set up takes a dark and dangerous turn in ... Crossed, Triple-Crossed.
Volume 4
20
20
"The Old Witcheroo"
Paul Ruditis
Dean Kotz
March 28, 2012
Magical beings run amuck in the streets sending the powerless into hiding. Cut off from the Elders, the Angels of Destiny, and much of the magical community, there is no one to turn to for help. All hope seems lost in a world in which the Charmed Ones are no longer Charmed.
21
21
"Reversal of Misfortune"
Paul Ruditis
Dean Kotz
May 2, 2012
With Magic School's doors no longer open, Knox Academy is one of the few places on Earth that can provide a safe haven for those in need. Piper, Phoebe, and Paige must team with the staff to protect themselves and their friends from the government's modern day witch hunt that has deemed anyone like them to be the enemy.
22
22
"Prue Ya Gonna Call?"
Paul Ruditis
Rubine
July 11, 2012
Magic gangs fight for control against government forces seriously out of their depth. Even with Piper, Phoebe, and Paige on the case, there is little they can do without their own magic. Overwhelmed and outnumbered, the side of good must hang all their hope on the single most powerful witch in the world.
23
23
"The Darklight Zone"
Paul Ruditis
Rubine
September 5, 2012
A voice from beyond the grave provides answers from the past as four sisters come together to solve a magical crisis that has affected the entire world. With an army of friends beside them, The Charmed Ones prepare for their biggest battle ever.
24
24
"The Power of 300"
Paul Ruditis
Rubine
October 3, 2012
Four sisters, bound by love and magic, have had their lives turned upside down many times in the years since they first inherited their powers. Now, they must put aside their differences and work together to take back their world. The Charmed Ones will need to unleash the full strength of the magic that has been growing through their family line for centuries in an epic battle that will bring season nine to its earth-shattering conclusion.
Volumes
Community content is available under
CC-BY-SA
unless otherwise noted.