The eighth season of Charmed began airing on September 25, 2005 on The WB. Airing on Sundays at 8 P.M., the season consisted of 22 episodes and concluded its airing on May 21, 2006.
Charmed: The Final Season, also Charmed: The Complete Eighth Season (region 2), was released in a six-disc box set on September 11, 2007 and later in a complete collection on November 18, 2008.
DVD summary
Get ready for the ultimate ride in supernatural entertainment! In Charmed: The Final Season, the magical Halliwell sisters Phoebe (Alyssa Milano), Piper (Holly Marie Combs) and Paige (Rose McGowan) face their biggest challenges in love, life and death as they try one last time to fulfill their destiny! Join them in their fight to protect Leo from the Angel of Death, and witness their devastating battle when demons conspire to take over the Underworld! Charmed: The Final Season's 6 discs deliver 22 episodes of nonstop thrills, suspense and a climactic finale! The Charmed Ones are ready. Are you?
Cast and Characters
Main Cast
Recurring Cast
Notes and Trivia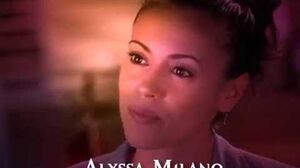 The DVD box-set of this season was released on the eleventh of September 2007 in region 1 (The U.S., Canada) and for other regions in February, March, April and September 2007, it wasn't released in Japan. Unlike the previous seasons it does include bonus features.
The Region 1 DVD's title is "The Final Season" instead of the regular "The Complete Eighth Season". The regular title was used for the Region 2 DVD's.
Due to licensing issues with the normal opening theme, How Soon Is Now?, it was replaced with the New Instrumental Theme Music for the DVD release. This new music would also be used as the opening for the entire series on Netflix.
The DVD box-set for region 2 is different than the box-set for region 1. Rose McGowan is lowered to the height of Alyssa Milano and Holly Marie Combs, Holly's shirt changes color from green to black, the color is black instead of yellow, and the scrying crystal is replaced with red crystal ball. It also says "The Complete Eighth Season" instead of "The Final Season".
In the region 2 version of the "Charmed: The Complete Series" Book of Shadows set, season eight's color scheme is dark blue. This was released in Europe prior to the eighth season's individual release, so this may indicate that an early cover art idea for region 2's season 8 set was dark blue in color.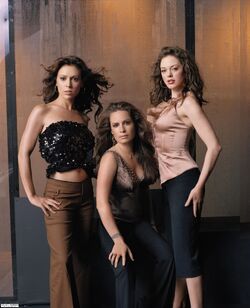 Kaley Cuoco joins the series as young rebel-witch Billie Jenkins.
The opening credits have changed slightly with mostly new clips for each main cast member and new clips at the end of the opening featuring the three main lead actresses and Kaley Cuoco.
Kaley Cuoco is added in between Holly Marie Combs and Brian Krause in the opening credits, moving Krause back to the end of the credits. Brad Kern stated that the credit was initially going to be either "with Brian Krause" or "and Brian Krause", but since this would have raised the costs, the idea was scrapped. The last time Brian was the last cast member in the opening was during season 2, when he himself was added to the opening.
The three main actresses, Alyssa Milano, Rose McGowan, and Holly Marie Combs, insisted that they would not wear any costumes or prosthetic make-up this season. In turn, any kind of transformations for the sisters would either not involve prosthetics, or would use seperate actors as the creatures instead of the actual actresses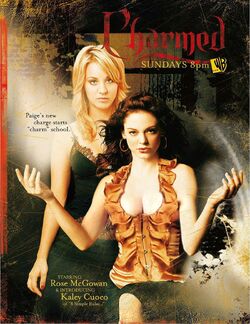 The main three actresses, Alyssa Milano, Rose McGowan, and Holly Marie Combs, as well as Kaley Cuoco appeared in every episode of the season. Brian Krause was temporarily written out of the show due to budget cuts and the arrival of three new characters, Henry Mitchell, Christy Jenkins and Coop (which was forced onto the writers by the network).
This is the only season since her introduction not to see Paige traveling in time.
Both the season premiere and the season finale have the word 'Charmed' in the title.
The sisters' powers each see some develop this season: Piper can easily deviate projectiles by exploding them and can freeze upper-level demons to some success, Phoebe starts receiving premonitions that make her think of her long-term future and Paige can now independently heal along with being able to access more Whitelighter powers such as Photokinesis and Hovering.
Darryl Morris is absent this season after leaving for the East Coast at the end of the previous season. This makes season 8 the only season to not feature him.
This is the only season where none of the Charmed Ones has lost any of their powers.
Videos
Episode List
No in series
No in season
Title
Directed by
Written by
Original air date
Production code
157
1
"Still Charmed & Kicking"
James L. Conway
Brad Kern
September 25, 2005
62015-08-157
Presumed dead, the Charmed sisters start a demon-free existence with new identities, but Paige can't escape her Whitelighter instincts and answers the call of a young witch named Billie.
158
2
"Malice in Wonderland"
Mel Damski
Brad Kern
October 2, 2005
62015-08-158
The Charmed Ones come to Billie's rescue when she tries to stop Haas, a young demon who wants to lure the sisters out of hiding and take over the Underworld.
159
3
"Run, Piper, Run"
Derek Johansen
Cameron Litvack
October 9, 2005
62015-08-159
When Piper's adopted appearance as a woman wanted for murder gets her arrested, the sisters and Billie set out to clear the woman's name.
160
4
"Desperate Housewitches"
Jon Paré
Jeannine Renshaw
October 16, 2005
62015-08-160
Piper's son, Wyatt, is kidnapped by Mandi, a demon in disguise who wants to use the boy's powers to bring back The Source and create the perfect demon family.
161
5
"Rewitched"
John T. Kretchmer
Rob Wright
October 23, 2005
62015-08-161
Billie jeopardizes the Charmed Ones' new lives when she uses her powers and is caught by Homeland Security Agent Murphy, who suspects the Halliwell sisters are not dead.
162
6
"Kill Billie: Vol. 1"
Michael Grossman
Elizabeth Hunter
October 30, 2005
62015-08-162
After Billie freezes in fear upon seeing her demon target, The Dogan, she opens up to The Charmed Ones about a Halloween long ago when a demon kidnapped her sister.
163
7
"The Lost Picture Show"
Jonathan West
Doug E. Jones & Andy Reaser
November 6, 2005
62015-08-163
Paige's biological Whitelighter father, Sam, asks for her help when his charge, J.D., escapes from Vaklav, a demon who holds people hostage inside an evil photo collage.
164
8
"Battle of the Hexes"
LeVar Burton
Jeannine Renshaw
November 13, 2005
62015-08-164
Phoebe and Billie discover a belt with superpowers that can turn the sexes against one another, while a power-hungry female demon uses Billie to achieve female domination.
165
9
"Hulkus Pocus"
Joel J. Feigenbaum
Liz Sagal
November 20, 2005
62015-08-165
When Billie is infected by a government-created virus that causes magical beings to "hulk out," Piper and Leo race against time to find an antidote to save her life.
166
10
"Vaya Con Leos"
Janice Cooke-Leonard
Cameron Litvack
November 27, 2005
62015-08-166
Piper turns to The Elders and The Avatars to save Leo from The Angel of Death, while Phoebe and Billie hunt for Billie's sister and meet Burke, a demonic bounty hunter who freezes his victims into trophies.
167
11
"Mr. & Mrs. Witch"
James L. Conway
Rob Wright
January 8, 2006
62015-08-167
When Billie discovers the power of projection, she inadvertently transforms her parents into cold-blodded assassins who are then hired to kill the CEO of a powerful company.
168
12
"Payback's a Witch"
Mel Damski
Brad Kern
January 15, 2006
62015-08-168
Paige tries to help Henry's parolee, Nick, get a loan at a bank, but when the loan is denied, Nick crashes his car into the bank and holds everyone hostage.
169
13
"Repo Manor"
Derek Johansen
Doug E. Jones
January 22, 2006
62015-08-169
When The Charmed Ones consider moving, they're forced to stay under the same roof by a demon that miniaturizes and imprisons them inside a dollhouse replica of the Manor.
170
14
"12 Angry Zen"
Jon Paré
Cameron Litvack
February 12, 2006
62015-08-170
Piper searches for information about Leo and discovers a message from Lo Pan, a monk and keeper of a sacred Buddhist staff containing the power of influence.
171
15
"The Last Temptation of Christy"
John T. Kretchmer
Liz Sagal & Rick Muirragui
February 19, 2006
62015-08-171
Paige is torn between dating mortal Henry or a magical suitor who proposes marriage, while Billie finds her sister, Christy, who has been held captive by demons for several years.
172
16
"Engaged and Confused"
Stuart Gillard
Jeannine Renshaw
February 26, 2006
62015-08-172
Paige and Henry's cold feet put their engagement in jeopardy. Meanwhile, a demon kidnaps Christy in order to lure The Charmed Ones into attacking the Triad and prevent them from taking over the Underworld.
173
17
"Generation Hex"
Michael Grossman
Rob Wright
April 16, 2006
62015-08-173
Piper is forced to take charge when Leo's teen proteges come to the manor seeking refuge from the demons that have overtaken the Magic School.
174
18
"The Torn Identity"
LeVar Burton
Andy Reaser
April 23, 2006
62015-08-174
Phoebe must choose between mortal or magical love, while Piper interrogates the demons who killed Billie and Christy's parents to prove that they were connected to the "Ultimate Power".
175
19
"The Jung and the Restless"
Derek Johansen
Cameron Litvack
April 30, 2006
62015-08-175
When Pheobe and Piper formulate a plan to get Leo back, Christy traps them in a dreamstate to prove to Billie that the sisters' "inner-truths" are driven by selfishness.
176
20
"Gone with the Witches"
Jonathan West
Jeannine Renshaw
May 7, 2006
62015-08-176
Billie and Christy team up to destroy the reputations of The Charmed Ones and force them into hiding in the Underworld.
177
21
"Kill Billie: Vol. 2"
Jon Paré
Brad Kern
May 14, 2006
62015-08-177
In order to defeat Billie and Christy, The Charmed Ones conjure The Hollow, the most powerful force known to mankind, which leads to a devastating battle.
178
22
"Forever Charmed"
James L. Conway
Brad Kern
May 21, 2006
62015-08-178
Reeling from the death of her sisters, Piper along with Leo, with the help of Coop's ring, must travel back in time to change the events that lead to the deaths of Phoebe and Paige.
External links