The
seventh season
of
Charmed
began airing on September 12, 2004 on The WB. Airing on Sundays at 8 P.M., the season consisted of 22 episodes and concluded its airing on May 22, 2005.
Charmed: The Complete Seventh Season was released in a six-disc box set on September 6, 2005 and later in a complete collection on November 18, 2008.
DVD summary
Follow The Charmed Ones, Phoebe (Alyssa Milano), Piper (Holly Marie Combs) and Paige (Rose McGowan), on their suspenseful adventures of the supernatural! In Charmed: The Complete Seventh Season, the magical Halliwell sisters are called to travel back in time, protect the innocents from the deadly demon Sarpedon, and keep Zankou from claiming the powerful Book of Shadows. Join the Charmed Ones in the ultimate battle of impending doom when the almighty Avatars from ancient Egypt plot to vanquish anyone who threatens their Utopian transformation of the world! Charmed: The Complete Seventh Season is filled with pure excitement, romance and mystical thrills.
The Power of Three has never been better!
Cast and Characters
Main Cast
Recurring Cast
Notes and Trivia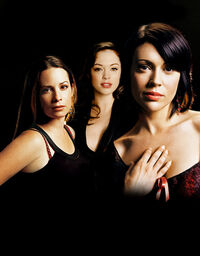 The opening credits have changed slightly with mostly new clips for each main cast member, (the clip before Holly Marie Combs' name is the only cast clip that remains the same as in season 6), and new clips at the end of the opening featuring the three main lead actresses.
The main three actresses, Alyssa Milano, Rose McGowan, and Holly Marie Combs, as well as Brian Krause appeared in every episode of the season. Dorian Gregory was the only one who appear less frequently.
The DVD box-set of this season was released on the sixth of February 2007 in region 1 (The U.S., Canada) and for all other regions in June, July, September or December 2007. It was not released in Japan and as with previous seasons it doesn't include any bonus features.
The DVD box-set for region 2 is different then the box-set for region 1. Region 2 features a different picture of Holly Marie Combs, is colored yellow, has the Book of Shadows in the background (open to the To Find a Lost Love entry), and Paige's dress has been photoshopped to be black.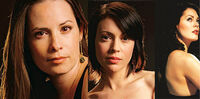 Episode list
No in series
No in season
Title
Directed by
Written by
Original air date
Production code
135
1
"A Call to Arms"
James L. Conway
Brad Kern
September 12, 2004
4301135
The exotic powers of Hindu's Ultimate Lovers, Shakti & Shiva, overtake Piper and Leo, Phoebe and Paige must stop them from consummating their love or the universe faces destruction.
136
2
"The Bare Witch Project"
John T. Kretchmer
Jeannine Renshaw
September 19, 2004
4301136
A mishap at Magic School conjures up a gorgeous Lady Godiva who arouses a spirit of liberation in The Charmed Ones. But the sisters can't bask too long in Lady Godiva's glow when an evil land baron sets his mind to killing Lady Godiva.
137
3
"Cheaper by the Coven"
Derek Johansen
Mark Wilding
September 26, 2004
4301137
The Charmed Ones are whirled back in time when Grams arrives for Chris's wiccaning and the sisters are stunned to find themselves to be bickering teenagers once again.
138
4
"Charrrmed!"
Mel Damski
Cameron Litvack
October 3, 2004
4301138
The Charmed Ones are bewildered when the aging curse of an infamous 18th-century pirate is transferred to them. The sisters must bring the Fountain of Youth to life in order the break the curse.
139
5
"Styx Feet Under"
Christopher Leitch
Henry Alonso Myers
October 10, 2004
4301139
A bloodthirsty demon, set on destroying his human half, goes on a deadly rampage to kill his remaining blood relatives. Piper is "killed" so that she can help the Angel of Death clean up the mess.
140
6
"Once in a Blue Moon"
John T. Kretchmer
Debra J. Fisher & Erica Messer
October 17, 2004
4301140
The light of a blue moon conjures up strange transformations in The Charmed Ones. Could Leo be to blame for the near-death of the sisters' new Whitelights...or is it the sisters themselves.
141
7
"Someone to Witch Over Me"
Jon Paré
Rob Wright
October 31, 2004
4301141
Paige's decision to help Agent Brody brings the sisters face-to-face with an evil demon, Sarpedon, who captures innocents' Guardian Angels for his own protection. Piper and Phoebe die at the hands of Sarpedon but Leo can save them - but only if he turns over his free will.
142
8
"Charmed Noir"
Michael Grossman
Curtis Kheel
November 14, 2004
4301142
Paige and Agent Brody are sucked into an unfinished novel and find themselves in the turbulent times of a 1930s film noir. Their only chance of escape is to find the missing author and help him be a hero so that the story can end.
143
9
"There's Something About Leo"
Derek Johansen
Natalie Antoci & Scott Lipsey
November 21, 2004
4301143
Leo's announcement that he is an Avatar causes pandemonium in The Charmed Ones' lives. Blood is shed when the distracted sisters are unable to fulfill their duty to protect the life of an Innocent.
144
10
"Witchness Protection"
David Jackson
Jeannine Renshaw
November 28, 2004
4301144
Leo is forced to protect the Seer upon the Avatars' insistence that she has information that can help destroy the demons while Agent Brody shares his darkest secret with Paige.
145
11
"Ordinary Witches"
Jonathan West
Mark Wilding
January 16, 2005
4301145
The underworld's most powerful demon transfers The Charmed Ones' powers to innocent bystanders who run amok with their new abilites.
146
12
"Extreme Makeover: World Edition"
LeVar Burton
Cameron Litvack
January 23, 2005
4301146
With the impending doom of the Avatars' Utopian transformation of the world where all humans must be put to sleep, The Charmed Ones become victims of a paranoia spell that attracts and kills an Avatar.
147
13
"Charmageddon"
John T. Kretchmer
Henry Alonso Myers
January 30, 2005
4301147
The conflict-free Utopian world can only be protected if the Avatars control who lives and dies. Leo gives up his life when he is unable to persuade The Charmed Ones that the Avatars kill innocent people.
148
14
"Carpe Demon"
Stuart Gillard
Curtis Kheel
February 13, 2005
4301148
An ex-demon professor candidate for Magic School causes a media frenzy when he falls under a spell that makes him believe that he is Robin Hood and that Phoebe is Maid Marian.
149
15
"Show Ghouls"
Mel Damski
Rob Wright & Debra J. Fisher & Erica Messer
February 20, 2005
4301149
While trying to help the Lost Souls of hundreds of victims who died in a catastrophic fire at a cabaret, Phoebe and Drake (Billy Zane) transport themselves back to the night of fire and are stuck in the year 1899.
150
16
"The Seven Year Witch"
Michael Grossman
Jeannine Renshaw
April 10, 2005
4301150
Piper ends up in a coma after a vicious demon attack and her spirit is stuck in the cosmic void between life and death. Moreover, she is surprised to find Cole (Julian McMahon) waiting for her.
151
17
"Scry Hard"
Derek Johansen
Andy Reaser & Doug E. Jones
April 17, 2005
4301151
Zankou (Oded Feher) is determined to find the Nexus and release the Shadow, the ultimate power. For their own protection, Piper and Leo are magically miniaturized and trapped inside a dollhouse.
152
18
"Little Box of Horrors"
Jon Paré
Cameron Litvack
April 24, 2005
4301152
The mythological Pandora's Box falls ino the hands of a shapeshifting demon who wants to open the box and release all the wickedness it contains. The Charmed Ones must find the Guardian who can return the released evil spirits to the box.
153
19
"Freaky Phoebe"
Michael Grossman
Mark Wilding
May 1, 2005
4301153
A power-hungry sorceress switches souls and tries to gain control of the Underworld while armed with Phoebe's identity and power. Phoebe, a prisoner in the sorceress's body, is accidentally vanquished by her sister.
154
20
"Imaginary Fiends"
Jonathan West
Henry Alonso Myers
May 8, 2005
4301154
Baby Wyatt's imaginary friend is actually a demon trying to gain his trust to turn him evil. Piper's spell inadvertently brings an evil 25-year old Wyatt back from the future who now wants to crush the good in baby Wyatt.
155
21
"Death Becomes Them"
John T. Kretchmer
Curtis Kheel
May 15, 2005
4301155
A menacing confrontation with the undead Innocents that The Charmed Ones were unable to save allows Zankou to take control of the Book of Shadows.
156
22
"Something Wicca This Way Goes...?"
James L. Conway
Rob Wright & Brad Kern
May 22, 2005
4301156
Zankou steals Phoebe's premonition power and thwarts The Charmed Ones' attempts to reclaim the Book of Shadows. The sisters realize that the only way to stop Zankou may be to sacrifice themselves.
External links
Community content is available under
CC-BY-SA
unless otherwise noted.