The
fifth season
of
Charmed
began airing on September 22, 2002 on The WB. Airing on Sundays at 8 P.M., the season consisted of twenty-three episodes and concluded its airing on May 11, 2003.
Charmed: The Complete Fifth Season was released in a six-disc box set on June 6, 2006 and later in a complete collection on November 18, 2008.
DVD summary
Fall under their spell... The Charmed Ones, Phoebe (Alyssa Milano), Piper (Holly Marie Combs) and Paige (Rose McGowan), are simply bewitching and they're here to stay! This season is rich with intense adventure, humor and intrigue as these sizzling supernatural siblings battle the forces of evil.
From the very first Season Five episode, when the sisters rush to the aid of an innocent mermaid, The Charmed Ones invite you into their irresistible magical world of paranormal action, fantasy, and suspense. What else do the Halliwell sisters have in store for you? One of them meets an evil Prince Charming; they become mystical comic book super-heroines and gorgeous Greek Goddesses to save the world from wicked evil, and even join forces with a Leprechaun!
Escape into their magical world... The Charmed Ones welcome you!
Cast and characters
Main cast
Recurring cast
Notes and Trivia
The DVD box-set of this season was released on the sixth of June 2006 in region 1 (The U.S., Canada) and for all other regions in February, March or July 2006. It was not released in Japan and as with previous seasons it doesn't include any bonus features.
The Region 1 and Region 2 DVD's have different cover art. Region 1 has a blue cover with three individual pictures of the sisters and the triquetra in the background whilst Region 2 has a group picture and a green, cloudy sky as the background. This is the only cover art where the artwork differs completely; both in color and cast photos, between regions.
This season features both a two hour long season premiere as well as a two hour long season finale, a first in the series. Only the season premiere features the special, short opening.
The opening credits have changed slightly with new clips for each main cast member and new clips at the end of the opening featuring the three main lead actresses.
This is the first season to feature Eric Dane as Jason Dean.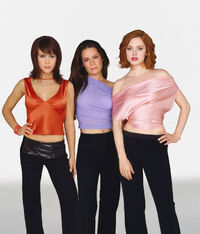 Episode list
No in series
No in season
Title
Directed by
Written by
Original air date
Production code
89
1
"A Witch's Tail, Part 1"
James L. Conway
Daniel Cerone
September 22, 2002
4301090
The Charmed Ones struggle to help a beautiful mermaid from losing her immortality, but are hindered by morphing mishaps and a fiendish water demon Sea Hag.
90
2
"A Witch's Tail, Part 2"
Mel Damski
Monica Breen & Alison Schapker
September 22, 2002
4301090
Piper and Paige are lost when Phoebe takes off to live in the ocean as mermaid. Meanwhile, a skeletal demon Necron is furious after losing Mylie's immortal life force and now hunts for Phoebe's.
91
3
"Happily Ever After"
John T. Kretchmer
Curtis Kheel
September 29, 2002
4301091
When an evil witch traps The Charmed Ones in warped classic fairy tales, Phoebe as Cinderella meets evil Prince Charming (Sean Patrick Flanery), Paige eats a poisoned apple, and Piper goes head-on with a big bad wolf.
92
4
"Siren Song"
Joel J. Feigenbaum
Krista Vernoff
October 6, 2002
4301092
Piper and Paige try to save Phoebe's life from the scandalous Siren while Piper and Leo's personas are switched by their unborn child.
93
5
"Witches in Tights"
David Straiton
Mark Wilding
October 13, 2002
4301093
A fiendish demon uses a young boy's magical drawings to transform into a super villain and, in order to stop the demon, the boy must transform The Charmed Ones into comic book super-heroines.
94
6
"The Eyes Have It"
James Marshall
Laurie Parres
October 20, 2002
4301094
Phoebe loses her powers of permonition and, as she struggles to retrieve them, she sees a terrifying vision of The Charmed Ones' death.
95
7
"Sympathy for the Demon"
Stuart Gillard
Henry Alonso Myers
November 3, 2002
4301095
The Demon of fear returns to seek vengeance on The Charmed Ones and the sisters become trapped in the manor battling their own fears.
96
8
"A Witch In Time"
John Behring
Daniel Cerone
November 10, 2002
4301096
Two of The Charmed Ones are killed and the remaining sister must reverse the chain of death when Phoebe inadvertently opens a time tunnel that provides a pathway for a warlock from the future.
97
9
"Sam, I Am"
Joel J. Feigenbaum
Alison Schapker & Monica Breen
November 17, 2002
4301097
Cole attacks The Charmed Ones as he realizes that he must eventually give in to evil destiny in the hope that the sisters will vanquish him and end his suffering.
98
10
"Y Tu Mummy Tambien"
Chris Long
Curtis Kheel
January 5, 2003
4301098
A lovelorn demon mummifies Phoebe in his quest to find the perfect body to hold the spirit of his dead lover.
99
11
"The Importance of Being Phoebe"
Derek Johansen
Krista Vernoff
January 12, 2003
4301099
After kidnapping Phoebe, Cole's scheming spells create mayhem for the remaining Charmed Ones as he tries to gain access to the powerful Nexus in the manor.
100
12
"Centennial Charmed"
James L. Conway
Brad Kern
January 19, 2003
4301100
Cole's twisted attempts to win Phoebe back destroy the Power of Three. The Charmed Ones must overcome the destruction he has caused and pull together to vanquish the desperate Cole.
101
13
"House Call"
Jon Paré
Henry Alonso Myers
February 2, 2003
4301101
The Charmed Ones become helplessly self-destructive when the Council of Witch Doctors brings voodoo dolls along on a house call.
102
14
"Sand Francisco Dreamin'"
John T. Kretchmer
Alison Schapker & Monica Breen
February 9, 2003
4301102
Terrifying nightmares come to life when a demon attacks the Charmed Ones with dream dust. The sister must magically re-enter their nightmares to unmask the symbolic meaning of their dreams.
103
15
"The Day the Magic Died"
Stuart Gillard
Daniel Cerone
February 16, 2003
4301103
At a summit meeting with the leaders of evil, Phoebe and Paige discover that all magic - both good and bad - has disappeared. Piper needs her sisters' help after she loses her soon-to-be-born baby to the leaders.
104
16
"Baby's First Demon"
John T. Kretchmer
Krista Vernoff
March 30, 2003
4301104
Demon kidnappers target Piper's baby for the demonic black market, but when their first attempt fails, the demons use Paige as a pawn to launch an attack on Leo and the baby.
105
17
"Lucky Charmed"
Roxann Dawson
Curtis Kheel
April 6, 2003
4301105
The Charmed Ones join forces with a Leprechaun to banish a deadly demon who is killing Leprechauns and stealing their magic. Good magic battles bad magic as the sisters try to reverse the Leprechauns' bad luck.
106
18
"Cat House"
James L. Conway
Brad Kern
April 13, 2003
4301106
Piper accidentally casts a spell that sends Phoebe and Paige back in time where, unbeknownst to the sisters, a wicked warlock tries to permanently alter their future by killing the Charmed Ones' cat.
107
19
"Nymphs Just Wanna Have Fun"
Mel Damski
Andrea Stevens & Doug E. Jones
April 20, 2003
4301107
Piper and Phoebe race against time to rescue Paige after she is transformed into a nymph and then captured by a demon who wants to rule the forest.
108
20
"Sense and Sense Ability"
Stewart Schill & Joel J. Feigenbaum
Brian Krause & Ed Bokinskie & Daniel Cerone & Krista Vernoff
April 27, 2003
4301108
An old crone who wants to kidnap Piper's baby weakens the Charmed Ones by stealing their senses. The blind, deaf, and mute sisters must overcome their handicaps to defeat her.
109
21
"Necromancing the Stone"
Jon Paré
Henry Alonso Myers & Alison Schapker & Monica Breen
May 4, 2003
4301109
Halliwell matriarchs who have been summoned to bless Piper's baby fall prey to the Necromancer demon who has returned from the Spirit Realm to absorb their magical powers.
110
22
"Oh My Goddess! Part 1"
Jonathan West
Krista Vernoff & Curtis Kheel
May 11, 2003
4301110
At the risk of being seduced by their vast new powers, the Charmed Ones are transformed into gorgeous Greek Goddesses possessing the ultimate power to defeat a band of angry Greek mythic gods, the Titans.
111
23
"Oh My Goddess! Part 2"
Joel J. Feigenbaum
Daniel Cerone
May 11, 2003
4301111
The Charmed Ones have become powerful Goddesses able to defeat the mighty Titans. Meanwhile Leo gets a promotion which leads to Piper taking off and leaving behind her sisters and son.
External links
Community content is available under
CC-BY-SA
unless otherwise noted.