The fourth season of Charmed began airing on October 4, 2001 on The WB. Airing on Thursdays at 9 P.M., the season consisted of 22 episodes and concluded its airing on May 16, 2002.
Charmed: The Complete Fourth Season was released in a six-disc box set on February 28, 2006 and later in a complete collection on November 18, 2008.
DVD summary
The Charmed Ones, modern-day urban witches Phoebe (Alyssa Milano), Piper (Holly Marie Combs) and Paige (Rose McGowan), move into Season Four with deeper, darker and more deftly crafted stories. As Piper and Phoebe struggle with the loss of their older sister, they discover the existence of half-sister Paige Matthews. Possessing the power to orb as a half-Whitelighter, Paige joins the Halliwell sisters to recreate the magical triad that protects the innocent and vanquishes evil. But all may be lost as Cole's (Julian McMahon) demonic side takes over, and Leo (Brian Krause) must face his past if he is to help the sisters in a battle that could destroy them all.
With intriguing characters, amazing special effects and the perfect brew of suspense, drama and humor, each exciting episode in this fascinating supernatural series casts a gripping spell.
Cast and characters
Main cast
Recurring cast
Notes and Trivia
Rose McGowan joins the main cast as Paige Matthews, the long kept hidden minor maternal half-sister of : Prue, Piper and Phoebe, after the exiting of Prue's actress : Shannen Doherty from the series."Charmed" producers originally wanted to recast Prue's role and approached ex-"Party of Five" star Jennifer Love Hewitt and Tiffani Thiessen (who replaced Doherty in Beverly Hills, 90210). Both declined and thus the producers decided to kill of Prue and replace her with a long-lost sister in favor of having "a fresh face" join the series. Other actresses considered for the role of Paige included Denise Richards and Charisma Carpenter (who would later portray Kyra in the 7th season).
The opening credits has gotten a total make-over due to the departure of Shannen Doherty from the series. Alyssa Milano has been put first, followed by Rose McGowan, followed by Holly Marie Combs who is now credited with "And ... As 'Piper'". Dorian Gregory gets new clips for the very first time since season 1 and switches places with Julian McMahon.
Netflix incorrectly lists each episode of this season one number behind their actual production number. This is due to the first two episodes, Charmed Again, Part 1 and Charmed Again, Part 2 being counted as one episode. This will happen again for both the season premiere and finale for Season 5 and again for Season 6.
This is the first season to feature a two hour long season premiere for which a special, shorter opening was created. The opening features a flashing triquetra and the word Charmed popping onto the screen. Behind the title, a glowing triquetra draws itself until everything flashes away. This opening would be used again for season 5.
The DVD box-set of this season was released on the twenty-eighth of February 2006 in region 1 (The U.S., Canada) and for all other regions in November and December 2005 or January 2006. It was released in June and July 2006 (as two parts) in Japan. As with previous seasons it doesn't include any bonus features.
This season is considered the darkest amongst fans due to the Source/Cole-becoming-evil-again storyline, and the dealing-with-death theme at the beginning of the season.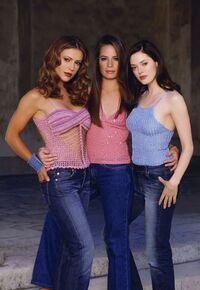 Episode list
No in series
No in season
Title
Directed by
Written by
Original air date
Production code
67
1
"Charmed Again, Part 1"
Michael Schultz
Brad Kern
October 4, 2001
4301801
Phoebe and Piper grieve over Prue's death and struggle with the demise of the Power of Three until they discover the existence of half-sister Paige, a Whitelighter.
68
2
"Charmed Again, Part 2"
Michael Schultz
Brad Kern
October 4, 2001
4301801
An 48-hour window endangers the Charmed Ones as Paige has yet to choose which side she'll serve, a flaw in the Grand Design which The Source employs to entice Paige to the side of evil.
69
3
"Hell Hath No Fury"
Chris Long
Krista Vernoff
October 11, 2001
4301069
Paige steals the Book of Shadows for personal gain, while Piper's inability to deal with Prue's death makes her vulnerable to demon vigilantes.
70
4
"Enter the Demon"
Joel J. Feigenbaum
Daniel Cerone
October 18, 2001
4301071
Paige creates havoc when she mixes potions that switch her body with Phoebe's, and must battle evil that has opened a portal between two worlds.
71
5
"Size Matters"
Noel Nosseck
Nell Scovell
October 25, 2001
4301070
A hideous demon shrinks Phoebe to a powerless five inches and uses her as bait to trap the other two sisters.
72
6
"A Knight to Remember"
David Straiton
Alison Schapker & Monica Breen
November 1, 2001
4301072
When Paige discovers she was an evil enchantress in a past life after conjuring a medieval prince, Phoebe and Piper are trapped in the Dark Ages.
73
7
"Brain Drain"
John Behring
Curtis Kheel
November 8, 2001
4301073
When The Source taps into Piper's brain and alters her perception of reality, Phoebe and Paige work quickly before she gives up all of their powers.
74
8
"Black as Cole"
Les Landau
Abbey Campbell, Brad Kern & Nell Scovell
November 15, 2001
4301074
Phoebe encounters Cole's demonic past when the sisters help a widow seek vengeance on a demon that killed her fiancé.
75
9
"Muse to My Ears"
Joel J. Feigenbaum
Krista Vernoff
December 13, 2001
4301075
The sisters fiercely battle warlocks who are enslaving the world's muses to use their divine creative inspiration for evil.
76
10
"A Paige from the Past"
James L. Conway
Daniel Cerone
January 17, 2002
4301076
Haunted by her parents' tragic deaths, Paige travels back in time while Piper must prevent the marriage of Phoebe and Cole, whose bodies are inhabited by outlaw ghosts.
77
11
"Trial by Magic"
Chip Scott Laughlin
Michael Gleason
January 24, 2002
4301077
Phoebe must convince other jury members of the existence of magic while Piper, Paige and Leo frantically try to find the real killer in time to free an innocent man.
78
12
"Lost and Bound"
Noel Nosseck
Nell Scovell
January 31, 2002
4301078
The sisters must teach a 10-year-old Firestarter how to use his power for good before his demon bounty hunter foster parents find him.
79
13
"Charmed and Dangerous"
Jon Paré
Alison Schapker & Monica Breen
February 7, 2002
4301079
The Source taps into the ultimate power of The Hollow, which consumes all magical powers, to unleash an ancient evil that goes after the sisters' powers.
80
14
"The Three Faces of Phoebe"
Joel J. Feigenbaum
Curtis Kheel
February 14, 2002
4301080
When Phoebe casts a spell to decide if she should marry Cole, she faces her past and future, while Cole is unable to control the evil growing within him.
81
15
"Marry-Go-Round"
Chris Long
Daniel Cerone
March 14, 2002
4301081
Phoebe fights with her sisters on her wedding day while The Source, which has completely taken over Cole, orchestrates a demonic ceremony.
82
16
"The Fifth Halliwheel"
David Straiton
Krista Vernoff
March 21, 2002
4301082
Paige, who feels like a fifth wheel among her happily married sisters and husbands, becomes convinced that Cole is still a demon.
83
17
"Saving Private Leo"
John Behring
Daniel Cerone & Doug E. Jones
March 28, 2002
4301083
When two ghosts seeking revenge on Leo kill Piper, Phoebe and Paige face the horror of losing another sister.
84
18
"Bite Me"
John T. Kretchmer
Curtis Kheel
April 18, 2002
4301084
Trying to unseat Cole as ruler of the Underworld, a vampire queen turns Paige into a bloodsucker and urges her to feed on Phoebe and Piper.
85
19
"We're Off to See the Wizard"
Timothy Lonsdale
Alison Schapker & Monica Breen
April 25, 2002
4301085
Piper and Paige help a wizard stop the coronation of a new Source, unaware that Cole is the new Underworld head and Phoebe is his Evil Queen.
86
20
"Long Live the Queen"
Jon Paré
Krista Vernoff
May 2, 2002
4301086
When Phoebe helps her sisters save an innocent, she and Cole face a bloody coup, unless she proves her dark allegiance by killing Piper and Paige.
87
21
"Womb Raider"
Mel Damski
Daniel Cerone
May 9, 2002
4301087
When Phoebe's baby shows signs of her demonic powers, The Seer plots to steal the baby and gain the power bestowed upon the heir of The Source.
88
22
"Witch Way Now?"
Brad Kern
Brad Kern
May 16, 2002
4301088
As a reward for vanquishing the Source of All Evil, the Angel of Destiny offers the sisters a chance to relinquish their powers and lead normal lives.
External links