The 22 episodes of the
second season
of
Charmed
were first aired by
The WB
on Thursdays at 9 ᴘ.ᴍ. on September 30, 1999 till May 18, 2000.
Charmed: The Complete Second Season was released in a six-disc box set on September 6, 2005 and later in a complete collection on November 18, 2008.
DVD Summary
The Halliwell sisters are back... and they've got "the Power of Three!" This season casts a spell of excitement, adventure and fun as Prue (Shannen Doherty), Piper (Holly Marie Combs), and Phoebe (Alyssa Milano) continue their journey as modern-day witches.
From the intense season opener, when the trio battles an old foe who attempts to render them powerless, to the suspense-filled, and at times very humorous season finale, these beautiful heroines will have you wishing for more. Their foes are stronger. Their powers are growing. And the supernatural has even more unique ways of disrupting their drama-filled personal lives just when they seem to get it together. Each exciting episode of this season continues to work the magic that made this critically acclaimed audience favorite a force to be reckoned with.
Cast and Characters
Main Cast
Recurring Cast
Notes and Trivia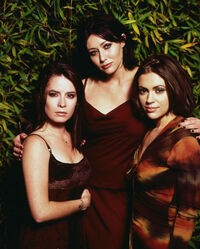 Episode list
No in series
No in season
Title
Directed by
Written by
Original air date
Production code
23
1
"Witch Trial"
Craig Zisk
Brad Kern
September 30, 1999
4399022
When a demon steals the Book of Shadows, the Halliwell sisters have just one chance to recapture it or they will lose their powers forever.
24
2
"Morality Bites"
John Behring
Chris Levinson & Zack Estrin
October 7, 1999
4399025
Phoebe has a horrifying premonition of her own execution, so the sisters cast a one-time spell that catapults them into the future to try to change her fate.
25
3
"The Painted World"
Kevin Inch
Constance M. Burge
October 14, 1999
4399023
Two of the sisters are trapped in a painting by a warlock who plans to torch it and destroy them, unless Phoebe can reverse their impending doom.
26
4
"The Devil's Music"
Richard Compton
David Simkins
October 21, 1999
4399024
Leo returns to help the sisters save their young neighbor when the manager of a band scheduled to play on Piper's nightclub makes a demonic deal.
27
5
"She's a Man, Baby, a Man!"
Martha Mitchell
Javier Grillo-Marxuach
November 4, 1999
4399026
When Prue casts a spell to catch a demon who kills only men, she turns into a guy who is rendered powerless when the demon's fatal charms zero in on her/him.
28
6
"That Old Black Magic"
James L. Conway
Valerie Mayhew & Vivian Mayhew
November 11, 1999
4399027
An evil witch hunts for her magic sceptre, which Prue has found, while Leo, Piper and Phoebe must locate the Chosen One to keep the powerful sceptre out of evil's hands.
29
7
"They're Everywhere"
Mel Damski
Sheryl J. Anderson
November 18, 1999
4399028
The Charmed Ones must save a young man from brain zapping Warlocks who are after the power he has collected from ancient tablets.
30
8
"P3 H2O"
John Behring
Chris Levinson & Zack Estrin
December 9, 1999
4399029
Prue must face her greatest fear in order to destroy a watery demon when the sisters revisit the place where their mother mysteriously drowned. In the process they meet a mysterious stranger from their mother's past.
31
9
"Ms. Hellfire"
Craig Zisk
Sheryl J. Anderson & Constance M. Burge
January 13, 2000
4399030
Prue assumes the identity of a mysterious assassin, while Piper and Phoebe race against time to protect the next intended victim.
32
10
"Heartbreak City"
Michael Zinberg
David Simkins
January 20, 2000
4399031
A Demon of Hate steals Cupid's powerful love ring and set out to destroy all his recent love matches, including the relationships of the Charmed Ones.
33
11
"Reckless Abandon"
Craig Zisk
Javier Grillo-Marxuach
January 27, 2000
4399032
Phoebe brings home an abandoned baby boy so the Charmed Ones can protect him from a vengeful ghost who has been killing off the men in his family.
34
12
"Awakened"
Anson Williams
Valerie Mayhew & Vivian Mayhew
February 3, 2000
4399033
Prue and Phoebe ignore the code preventing witches from using spells for personal gain when Piper comes down with a mysterious life-threathing illness.
35
13
"Animal Pragmatism"
Don Kurt
Chris Levinson & Zack Estrin
February 10, 2000
4399034
When Phoebe's friends use a book of spells to turn animals into men, her attempt to reverse the spell goes horribly wrong.
36
14
"Pardon My Past"
Jon Paré
Michael Gleason
February 17, 2000
4399035
Phoebe risks her life by travelling back in time in order to reverse the past in which she was seduced by an immortal warlock to give in to the dark side of her power.
37
15
"Give Me a Sign"
James A. Contner
Sheryl J. Anderson
February 24, 2000
4399036
When criminal mastermind Bane Jessup (Antonio Sabato, Jr.) narrowly escapes an attack by a powerful demon, he kidnaps Prue and forces her to use her powers to save him.
38
16
"Murphy's Luck"
John Behring
David Simkins
March 30, 2000
4399037
When Prue rescues a woman who has been driven to attempt suicide by a Darklighter, she finds herself his next tormented victim.
39
17
"How to Make a Quilt Out of Americans"
Kevin Inch
Javier Grillo-Marxuach & Robert Masello
April 6, 2000
4399038
The sisters are asked by a family friend to stop a demon who steals skin from corpses, and soon learn that the woman is actually trading their powers for eternal youth and beauty.
40
18
"Chick Flick"
Michael Schultz
Zack Estrin & Chris Levinson
April 20, 2000
4399039
The Halliwell sisters battle a demon who is bringing horror film characters to life and has called upon a knife-wielding corpse to kill them.
41
19
"Ex Libris"
Joel J. Feigenbaum
Peter Chomsky & Brad Kern
April 27, 2000
4399040
Phoebe tries to help the ghost of a former student who was killed by a demon wanting to stop the publication of the student's thesis proving the existence of evil.
42
20
"Astral Monkey"
Craig Zisk
David Simkins & Constance M. Burge
May 4, 2000
4399041
A doctor accidentally acquires the powers of all three Halliwell sisters during a blood transfusion and begins using them to harvest organs from innocent victims.
43
21
"Apocalypse, Not"
Michael Zinberg
Sanford Golden & Sheryl J. Anderson
May 11, 2000
4399042
Piper, Phoebe and Leo must rescue Prue, who has become trapped in a vortex with one of the Four Horsemen of the Apocalypse.
44
22
"Be Careful What You Witch For"
Shannen Doherty
Chris Levinson, Zack Estrin & Brad Kern
May 18, 2000
4399043
Prue is killed and Piper and Phoebe are powerless to reverse the deadly damage when a fast-talking genie working for a Dragon Warlock grants each of the sisters a wish.
External links
Community content is available under
CC-BY-SA
unless otherwise noted.