The
first season
of
Charmed
premiered on October 7, 1998 on
The WB
. Airing on Wednesdays at 9 P.M., the season consists of 22 episodes and concluded its airing on May 26, 1999.
Charmed: The Complete First Season was released in a six-disc box set on February 1, 2005 and later in a complete collection on November 18, 2008.
DVD summary
The discovery that they are descendants of a long line of witches finds three sisters battling demons and warlocks—and occasionally each other.
When the beautiful Halliwell sisters inherit a house from their grandmother and discover a secret "Book of Shadows," they learn that they each have a unique power. The strong-willed Prue (Shannen Doherty) can move objects, reserved Piper (Holly Marie Combs) is able to freeze time, and the uninhibited Phoebe (Alyssa Milano) sees the future, individually, each is strong, but it is only by putting aside their differences and bonding together as the "Power of Three" that they will be able to protect the innocent and vanquish evil. Each exciting episode in this richly layered series is a supernatural adventure brewing with suspense and humor.
Cast and Characters
Main cast
Recurring cast
Notes and Trivia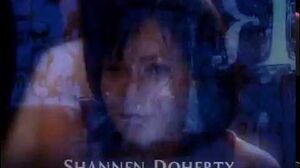 If one of the supporting characters does not appear in a particular episode, his and her name also doesn't appear in the opening credits. Except in That '70s Episode.
The DVD box-set of this season was released on the first of February 2005 in region 1 (The U.S., Canada) and for all other regions in May, April, June or July. It does not include any bonus features, much to the chagrin of fans. None of the other Season DVDs would, until Season 8; the final season.
A limited edition of the DVD box-set was released with a red cover instead of a purple one. It also included a tarot card pack.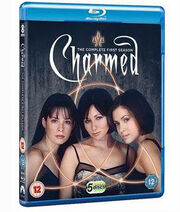 The first season of Charmed was digitally remastered and released on Blu-ray on October 30, 2018. For the first time ever, the episodes were released in high-definition and 16:9 aspect ratio (the show originally aired and was released on DVD in the then traditional 4:3 aspect ratio). Episodes also underwent recoloring and special effects were rendered in higher quality. The opening credits were redone as well, but faced a lot of criticism from fans for looking rushed and not like the original credits. Other seasons have been remastered and are being aired on Syfy, an American pay television channel, but have not been released on Blu-ray yet.
The opening credits underwent several changes during the first five episodes. The order of the main cast was changed, as well as several effects and clips.

Alyssa Milano was put before T.W. King and Dorian Gregory after the fourth episode, with the word and remaining before her name.
The nameless shots for every character were originally very short, rather like a flash but became longer shots in which the character used a power (however, for mortal characters, this would be a regular close up of the actor).
The effects on how the names appeared on screen changed as well. For the pilot episode the names faded in, while horizontally moving into place. For the second and third episodes, a blue scroll that spells "Charmed" appears as the names fade in. And since the fourth episode onwards, a scroll that spells "Charmed" quickly rolls onto screen and reveals the actor's name.
The third episode's opening credits featured new clips for each character, however, no effects were placed on them. The triquetra which appears in the title shot was also missing (although a blurred version can be seen when "Charmed" fades away).

The main three actresses, Shannen Doherty, Holly Marie Combs and Alyssa Milano appeared in every episode of the season. The male leads do not:

T.W. King did not appear in "That '70s Episode", however, he is featured in the opening credits as his character appears as a child.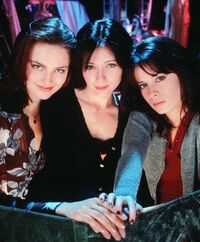 Episode list
No in series
No in season
Title
Directed by
Written by
Original air date
Production code
0
0
"Unaired Pilot"
Bruce Seth Green
Constance M. Burge
N/A
N/A
Reunited in the grand Victorian house of their childhood, a trio of sisters, Prue, Piper, and Phoebe Halliwell discover they are gifted witches. Little do they know that their newfound powers mean that they are now prey to evil forces.
1
1
"Something Wicca This Way Comes"
John T. Kretchmer
Constance M. Burge
October 7, 1998
1498704
Reunited in the grand Victorian house of their childhood, a trio of sisters, Prue, Piper, and Phoebe Halliwell discover they are gifted witches. Little do they know that their newfound powers mean that they are now prey to evil forces.
2
2
"I've Got You Under My Skin"
John T. Kretchmer
Brad Kern
October 14, 1998
4398001
Phoebe can't resist a peek into the future. She and her sisters learn their first lesson in witchcraft - deadly demons can come in any kind of package, including gorgeous male photographers.
3
3
"Thank You For Not Morphing"
Ellen Pressman
Chris Levinson & Zack Estrin
October 21, 1998
4398003
Reunited with their long-lost father, Victor Halliwell, the sisters are ecstatic but a little suspicious of his sudden reappearance. Could good ol' dad have an ulterior motive?
4
4
"Dead Man Dating"
Richard Compton
Javier Grillo-Marxuach
October 28, 1998
4398005
Prue tries to avoid a birthday celebration as Piper befriends and saves the restless soul of a ghost who was murdered by a gang leader. The sisters save his soul and learn a valuable lesson.
5
5
"Dream Sorcerer"
Nick Marck
Constance M. Burge
November 4, 1998
4398002
Overworked Prue battles a sleep demon in the guise of a handsome man, while Phoebe conjures a spell to attract men that turns out to be too strong - the sisters can barely escape their myriad admires.
6
6
"The Wedding from Hell"
R.W. Ginty
Greg Elliot & Michael Perricone
November 11, 1998
4398004
An evil-bride-to-be, interested only in creating more demonic offspring, battles the Halliwell sisters during her demonic wedding party but is thwarted by Prue's investigation of a mysterious knife.
7
7
"The Fourth Sister"
Gil Adler
Edithe Swensen
November 18, 1998
4398006
A troubled teenager, Aviva (Danielle Harris), befriends Phoebe with the hopes of joining the Halliwell coven of witches, but Aviva's mentor has her own agenda - to steal the Charmed Ones' powers.
8
8
"The Truth is Out There... and It Hurts"
James A. Contner
Zack Estrin & Chris Levinson
November 25, 1998
4398007
The sisters stumble across a truth spell in the Book of Shadows and are put in the dangerous position of having to hear and speak the truth for 24 hours.
9
9
"The Witch is Back"
Richard Denault
Sheryl J. Anderson
December 16, 1998
4398008
Prue is attacked by a powerful 300-year warlock (Billy Wirth) who is furious about having been trapped in a locket by an ancestor of the Halliwell sisters. The vengeful warlock can copy others' powers and The Charmed Ones must stop him.
10
10
"Wicca Envy"
Mel Damski
Brad Kern & Sheryl J. Anderson
January 13, 1999
4398009
Prue's devious boss and secret warlock Rex (Neil Roberts) frames Prue for stealing a priceless tiara and puts her in jail. The sisters plot a jailbreak to catch the sly Rex in action.
11
11
"Feats of Clay"
Kevin Inch
Michael Perricone, Greg Elliot, Chris Levinson & Zack Estrin
January 20, 1999
4398010
Phoebe's ex-boyfriend Clay (Victor Browne) breezes into town looking for a reconciliation but, as usual, there are strings attached. This time, Clay brings with him a mortal curse in a stolen Egyptian urn.
12
12
"The Wendigo"
James L. Conway
Edithe Swensen
February 3, 1999
4398011
When a hideous supernatural creature attacks Piper, she begins to make a strange transformation with similar traits to her attacker. Prue and Phoebe must save her by vanquishing the beast. But at night in the woods, how will they know for sure if it's the creature, or if it's Piper?
13
13
"From Fear to Eternity"
Les Sheldon
Tony Blake & Paul Jackson
February 10, 1999
4398012
Every 1300 years, a unique demon appears that feeds on the fears of witches. This time it is targeting the Halliwell sisters and they receive aid from their Wicca mother just as they are close to their own fearful deaths.
14
14
"Secrets and Guys"
James A. Contner
Constance M. Burge & Sheryl J. Anderson
February 17, 1999
4398013
A kidnapped boy (David Netter) with special powers sends cryptic cries of help to Prue. The search for the boy leads to the unveiling of a special secret about Leo, Piper's beau.
15
15
"Is There a Woogy in the House?"
John T. Kretchmer
Zack Estrin & Chris Levinson
February 24, 1999
4398014
Phoebe's fear of a "Woogyman" who lives in the basement is an ongoing source of amusement for her two sisters. That is, until a violent earthquake unleashes a long-dormant shadow-demon that turns Phoebe against her siblings.
16
16
"Which Prue is It, Anyway?"
John Behring
Javier Grillo-Marxuach
March 3, 1999
4398015
In an effort to save herself, Prue chants an incantation to multiply her strength. Surprisingly, the spell results in the creation of multiple Prue's.
17
17
"That '70s Episode"
Richard Denault
Sheryl J. Anderson
April 7, 1999
4398016
The Halliwell sisters must cast a spell that returns them to the mid-'70s in order to save themselves from a warlock that is immune to the powers of The Charmed Ones.
18
18
"When Bad Warlocks Go Good"
Kevin Inch
Edithe Swensen
April 28, 1999
4398017
Outrageous situations arise when Phoebe tries to help Piper make a love connection, and Prue meets a young man who is fighting against his destiny to become evil.
19
19
"Out of Sight"
Craig Zisk
Tony Blake & Paul Jackson
May 5, 1999
4398018
The sisters attempt a dangerous rescue of a boy who has been kidnapped by a Grimlock, and Prue's secret is shattered when a reporter witnesses her using her magical powers.
20
20
"The Power of Two"
Elodie Keene
Brad Kern
May 12, 1999
4398019
The evil spirit of a serial killer escapes from Alcatraz Island seeking revenge. It's up to Phoebe and Prue to figure out how to vanquish this evil spirit and stop him from killing again, and they must do it without Piper.
21
21
"Love Hurts"
James Whitmore
Chris Levinson, Zack Estrin & Javier Grillo-Marxuach
May 19, 1999
4398020
Returning to San Francisco, Leo (Brian Krause) asks the Halliwell sisters to protect an innocent woman who is being stalked by a demonic suiter. Piper finally learns that her beau, Leo, is a Whitelighter. Because of this, Piper must say goodbye to her love.
22
22
"Déjà Vu All Over Again"
Les Sheldon
Brad Kern & Constance M. Burge
May 26, 1999
4398021
Fighting for their lives, the Charmed Ones combat time sorcerer Tempus (guest star David Carradine) who has created a terrifying time loop. It is a race against the clock as the sisters try to find a way out of their terrifying recurring deaths.
External links
Community content is available under
CC-BY-SA
unless otherwise noted.