" I just want my Jag. Do you want me to shoot you too? I swear I will."
—The pastor to Prue Halliwell.
Roger Tremble was a local pastor in San Francisco who was infected with the sin of Envy. He was driven to attempt to rob a car dealership due to his envy.
History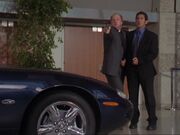 In 2001, paster Tremble was infected with the sin of Envy by either Lukas or his courier. His sin eventually drove him to rob a car dealership, because he desired an XK convertible Jaguar in British racing green.
The police quickly arrived at the scene, though Darryl Morris called in The Charmed Ones. While infected with Pride, Prue believed herself to be invincible and charged into the car dealership while the pastor held a dealer at gunpoint. Prue tried to disarm him, but was grazed in the arm by a bullet as her powers were not working properly. According to her, she proceeded to "kick his ass" and asked Darryl to take him to a psychiatric hospital, where he could not hurt himself and Lukas could not find him. After Lukas was vanquished, the sin ball was extracted from the pastor and returned to the box.

Appearances
Roger Tremble appeared in a total of 1 episode over the course of the series.
Charmed

,

Season 3

#01
"The Honeymoon's Over"
#09
"Coyote Piper"
#17
"Pre-Witched"
#02
"Magic Hour"
#10
"We All Scream for Ice Cream"
#18
"Sin Francisco"
#03
"Once Upon a Time"
#11
"Blinded by the Whitelighter"
#19
"The Demon Who Came in From the Cold"
#04
"All Halliwell's Eve"
#12
"Wrestling with Demons"
#20
"Exit Strategy"
#05
"Sight Unseen"
#13
"Bride and Gloom"
#21
"Look Who's Barking"
#06
"Primrose Empath"
#14
"The Good, the Bad and the Cursed"
#22
"All Hell Breaks Loose"
#07
"Power Outage"
#15
"Just Harried"
#08
"Sleuthing with the Enemy"
#16
"Death Takes a Halliwell"
Community content is available under
CC-BY-SA
unless otherwise noted.