Reckless Abandon
is the
11h episode
of the
second season
and the 33rd. overall episode of
Charmed
.
Summary
For a complete plot of Reckless Abandon, go

here

.
To read the full script of Reckless Abandon, go

here

.
Phoebe brings home an abandoned baby boy so the Charmed Ones can protect him from a vengeful ghost who has been killing off the men in his family.
Cast
Main Cast
Guest Stars
Co-Starring
Uncredited
Magical Notes
Book of Shadows
Powers
Notes and Trivia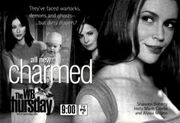 Matthew will also be Piper and Leo first born : Wyatt's middle name. It was also the name of the warlock Matthew Tate and Piper and Leo's oldest grandchild Matthew Halliwell.
The case wants that : Matthew is also part of the surname of the then-unknown younger maternal half-sister of the Halliwell's : Paige.
We find out in this episode that Darryl is a father, though his children are not seen until "Oh My Goddess! Part 1".
This episode reunites Shannen Doherty and Stephanie Beacham (Martha), who played Iris McKay (Dylan's mom) on Beverly Hills 90210.
This is the first time, and one of the few instances in the series, that a ghost was visible to mortals .
This is the first episode where the sisters become temporary foster parents to a baby. They will do this again in "Little Monsters" and "Hulkus Pocus".
At the end of the episode, Prue says that she will make a good mother some day, however, Prue passes away before she can have a child.
Prue does not use her Astral Projection power in this episode.
We find out that Prue accidentally dropped Phoebe when she was a baby.
In this episode Prue demonstrates that she can move multiple objects in an intricate path with lots of precision and can move Lundy's bones which she can't see but knows their location.
Prue uses her power of telekinesis for personal gain various times in the episode.
This episode scored 7.5 million viewers.
Cultural References
The term reckless abandon means having or showing no regard for danger or consequences. It also refers to Matthew being abandoned (for his own protection).
Glitches
When Prue and Piper are changing Matthew and the camera focuses on them, the baby's foot is clearly from a doll.
Piper wonders why Lundy doesn't freeze, claiming that she's frozen ghosts before, yet the only ghost-like being she ever froze was Yama.
When they are changing Matthew's diaper, they say it is too small, but you can see that the side of the diaper is folded over.
Music
"Human Touch" by Pocket Size (after the opening credits)
"I Love You" by Martina McBride (Prue, Piper and Phoebe washing, drying and dressing baby Matthew) - on the Netflix version of this episode, this song has been taken out and replaced with another due to copyright issues.
Gallery
Episode Stills
Quotes
---
---
---
International Titles
French: L'héritier (The Inheritor)
Polish: Bezmyślne Porzucenie (Reckless Abandon)
Czech: Opuštěné dítě (Abandoned Baby)
Slovak: Odložené dieťa (Abandoned Baby)
Italian: Istinto materno (Maternal Instinct)
Spanish (Spain): Abandono atropellado (Hasty Abandon)
Spanish (Latin America): Abandono imprudencial (Reckless Abandon)
Portuguese (Portugal): Abandono Atropelado (Abandon _)
Portuguese (Brazil): Abandono Imprudente (Reckless Abandon) (Abandon Abrupt)
Russian: Безрассудные поступки [Bezrassudnye postupki] (Reckless Behavior)
Finnish: Löytölapsi (Foundling)
German: Drei Hexen und ein Baby (Three Witches and a Baby)
Hungarian: Gyereksírás (Baby Crying)
Serbian: Napuštena beba (Abandoned Baby)
Community content is available under
CC-BY-SA
unless otherwise noted.