The Pool Player was one of the many demons who had gathered in an underground bar to watch the demonic reality show "Witch Wars" organized by Corr and Clea.
History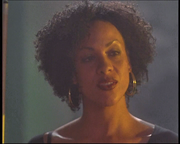 The Pool Player was playing pool with another demon, and vanquished him with her cue out of anger when she lost. She was later vanquished by Phoebe Halliwell , who crashed the bar and threw energy balls at several demons. She leaped out of harm's way when Phoebe vanquished Rork in her line of aim, only to be vanquished seconds later.
Powers and Abilities
Active Powers
Agility: The ability to perform inhuman physical feats. She was able to leap over an energy ball that almost hit her once.
Notes and Trivia
Appearances
The Pool Player appeared in a total of 1 episode over the course of the series.
Charmed

,

Season 6

#01
"Valhalley of the Dolls, Part 1"
#09
"Little Monsters"
#17
"Hyde School Reunion"
#02
"Valhalley of the Dolls, Part 2"
#10
"Chris-Crossed"
#18
"Spin City"
#03
"Forget Me...Not"
#11
"Witchstock"
#19
"Crimes and Witch-Demeanors"
#04
"The Power of Three Blondes"
#12
"Prince Charmed"
#20
"A Wrong Day's Journey Into Right"
#05
"Love's a Witch"
#13
"Used Karma"
#21
"Witch Wars"
#06
"My Three Witches"
#14
"The Legend of Sleepy Halliwell"
#22
"It's a Bad, Bad, Bad, Bad World, Part 1"
#07
"Soul Survivor"
#15
"I Dream of Phoebe"
#23
"It's a Bad, Bad, Bad, Bad World, Part 2"
#08
"Sword and the City"
#16
"The Courtship of Wyatt's Father"
Community content is available under
CC-BY-SA
unless otherwise noted.