Photokinesis is the ability to create and manipulate light. With the exception of its first appearance, this power is usually demonstrated by controlling orbs of light, rather than manipulating actual light. This power is associated with good, as the only known possessors are the Elders, Whitelighters and Whitelighter-Witches.
Examples
List of beings who use(d) Photokinesis
Angelic Beings
Half-Witches
Gallery
Notes and Trivia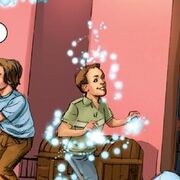 Only Elders, Whitelighters, and Whitelighter-Witches have demonstrated this power.
This power has been shown used in a passive, supportively, defensively and offensively. Leo Wyatt demonstrated the offensive aspect in the comics whilst fighting Rennek.
In the comics, Whitelighters can project orbs as weapons, seen when Leo fights Rennek and this was never demonstrated on the show.
References