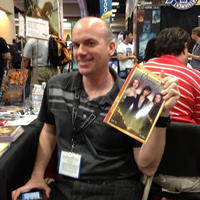 Paul Ruditis is a well known published author of several media tie in novels, as well as several original novels. He has written a number of Charmed Novels and Season 9 of the Charmed Comics. He also edited the first seven issues of Season 10.
Early Life
Paul Ruditis was born and raised in Philadelphia, USA, and wrote his first book in ninth grade; a horror story about a demon attacking the beach town of Avalon, New Jersey. It was a class assignment in which they typed up their books and bound them in a cardboard cover. Although, he used a manila folder for his, because he preferred paperback covers (and still does).
Paul attended West Chester University where he majored in Theater Arts with a directing emphasis, which is where he wrote his second book (which he plans to rewrite).
After college, he moved to Los Angeles and got a job at Paramount Pictures, where he worked as a tour guide and usher, as well as temporary office work. Eventually he got a position working in the studio's licensing department where he quickly worked his way up to middle management.
Writing
When offered the chance to write a Buffy, the Vampire Slayer short story for a collection his friend was making, he immediately quit his job at Paramount Pictures to work full-time as a writer.
From there, Paul started writing tie-in novels for various TV-Shows such as Star Trek, Roswell and Sabrina, The Teenage Witch. Since then, he has written over 30 novels based on some of the best shows on TV, adding The West Wing, Alias, and Prison Break, to the ever growing list.
Charmed Work
Paul Ruditis has written a number of Fiction and Non-Fiction Charmed tie-ins.
Charmed Guidebooks
Charmed Comics
More recently he was hired as the main writer for the Charmed Comics, because of his knowledge of the Charmed Universe, being the only writer of the novels who has spoken to the writers and actors of the show.
For more information, please see the main Comics article.
External Links
See Also
Community content is available under
CC-BY-SA
unless otherwise noted.