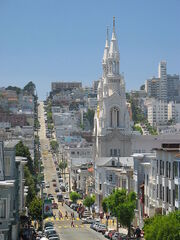 North Beach is a neighborhood in northeast San Francisco adjacent to Chinatown and Fisherman's Wharf. It is the city's Little Italy.
North Beach was where Serena Fredrick lived before she was killed by Jeremy Burns Piper and Prue lived in an apartment in the neighborhood after college,[1] but later rented it to some friends and moved back to the Halliwell Manor to be with their ailing grandmother. Piper and Leo considered moving back here after they got married to find space of their own, but later changed their minds.[2]
Notes and Trivia
External Links
References
Community content is available under
CC-BY-SA
unless otherwise noted.