"You see, twenty-four years ago today, your mother and I made a pact. To spare her life, she gave up your future powers to me. She blessed this ring. Which gave me immunity from your powers. Immunity so that I could kill you and take the powers on for my own. To become invincible."
—Nicholas revealing his true nature to the sisters.
Nicholas was a powerful warlock, who went after the Charmed Ones in 1999, after forcing their mother into a deal to give up their powers years earlier.
History
First Attack
In March 1975, Nicholas lured Patty Halliwell to his hotel room while she was pregnant with Phoebe by making her believe that Victor called her. He forced her to give up her daughters' powers to him, in return for sparing her life, by making her to bless a ring that gave him immunity to the Charmed Ones' powers. After being tipped off by the time travelling Charmed Ones, Penny cast a spell to bind the Charmed Ones' powers shortly after Phoebe was born for their safety.
Discovering this, Nicholas used his glamouring power to magically age himself and pose as a would-be suitor for Penny. Each year he would appear on the same day with a vase of flowers for her at exactly noon. In the middle of the clock's gong, he would drop the flowers to see if one of the Charmed Ones would freeze it before the vase broke.
When he showed up in 1999, a year after Penny's death, Piper froze the vase just as he dropped it. When he unfroze, he realized that the Charmed Ones had their powers and tried to take them. The sisters went back in time to undo the blessing and returned to their own time after they succeeded. They then vanquished Nicholas with the spell and potion Penny had created for them.
Return
In late 1999, a demon named Abraxas stole the Book of Shadows and started reversing all the spells in it in an attempt to demonize the sister's powers. When Abraxas recited the Nicholas Must Die spell backwards, Nicholas was brought back from the dead. He attacked Prue Halliwell in her office at Buckland Auction House, though Prue was able to vanquish him again with the same spell. This time, a potion was not necessary.
Powers and Abilities
Basic Powers
Active Powers
Other Powers
Appendices
Book of Shadows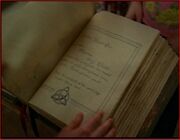 Lavender,

Mimosa,

Holy Thistle,
Cleanse this evil from our midst
Scatter its cells throughout time
let this Nick no more exist.
Pour the contents of your spell bag
in your mortar bowl...
Notes and Trivia
Gallery
Appearances
Nicholas appeared in a total of 2 episodes throughout the course of the series.
Charmed

,

Season 1

#01
"Something Wicca This Way Comes"
#09
"The Witch is Back"
#17
"That '70s Episode"
#02
"I've Got You Under My Skin"
#10
"Wicca Envy"
#18
"When Bad Warlocks Go Good"
#03
"Thank You For Not Morphing"
#11
"Feats of Clay"
#19
"Out of Sight"
#04
"Dead Man Dating"
#12
"The Wendigo"
#20
"The Power of Two"
#05
"Dream Sorcerer"
#13
"From Fear to Eternity"
#21
"Love Hurts"
#06
"The Wedding from Hell"
#14
"Secrets and Guys"
#22
"Déjà Vu All Over Again"
#07
"The Fourth Sister"
#15
"Is There a Woogy in the House?"
#08
"The Truth is Out There... and It Hurts"
#16
"Which Prue is It, Anyway?"
Charmed

,

Season 2

#01
"Witch Trial"
#09
"Ms. Hellfire"
#17
"How to Make a Quilt Out of Americans"
#02
"Morality Bites"
#10
"Heartbreak City"
#18
"Chick Flick"
#03
"The Painted World"
#11
"Reckless Abandon"
#19
"Ex Libris"
#04
"The Devil's Music"
#12
"Awakened"
#20
"Astral Monkey"
#05
"She's a Man, Baby, a Man!"
#13
"Animal Pragmatism"
#21
"Apocalypse, Not"
#06
"That Old Black Magic"
#14
"Pardon My Past"
#22
"Be Careful What You Witch For"
#07
"They're Everywhere"
#15
"Give Me a Sign"
#08
"P3 H2O"
#16
"Murphy's Luck"
References
Community content is available under
CC-BY-SA
unless otherwise noted.