"The innocent has been marked and territory staked. Soon, every mortal within the pentagram will be ours alone to prey upon."
—Malvoc to Vassen.
Malvoc was an upper-level demon who led his own clan. He wanted to claim territory in San Francisco by killing mortals in a pentagram. His clan was the rival of another clan called the Sokols.
History
In order to permanently claim a territory in San Francisco, Malvoc and his clan killed several mortals in the shape of a pentagram. However, their last victim was saved by the Charmed Ones. In order to get their innocent back, Malvoc decided to frame his rivals the Sokols. He hoped that the sisters would vanquish his rivals and return the innocent, allowing them to kill him.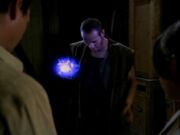 Malvoc and Vassen vanquished several Sokols to get their bracers and attacked the manor. Vassen was then vanquished and Malvoc left a bracer behind, causing Piper and Leo to vanquish the Sokols. Once they returned the mortal, Malvoc vanquished him.
When time was reversed, Leo knew what was going to happen ahead of time. He and Piper vanquished the demons and Leo found Malvoc hiding. He then vanquished him with a lightning bolt.
Powers and Abilities
Active Powers
Other Powers
Appearances
Malvoc appeared in a total of 1 episode over the course of the series.
Charmed

,

Season 7

#01
"A Call to Arms"
#09
"There's Something About Leo"
#17
"Scry Hard"
#02
"The Bare Witch Project"
#10
"Witchness Protection"
#18
"Little Box of Horrors"
#03
"Cheaper by the Coven"
#11
"Ordinary Witches"
#19
"Freaky Phoebe"
#04
"Charrrmed!"
#12
"Extreme Makeover: World Edition"
#20
"Imaginary Fiends"
#05
"Styx Feet Under"
#13
"Charmageddon"
#21
"Death Becomes Them"
#06
"Once in a Blue Moon"
#14
"Carpe Demon"
#22
"Something Wicca This Way Goes...?"
#07
"Someone to Witch Over Me"
#15
"Show Ghouls"
#08
"Charmed Noir"
#16
"The Seven Year Witch"
Community content is available under
CC-BY-SA
unless otherwise noted.