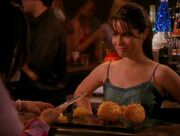 The Kiwano, also known as Horned Melon and many other names, is a vine in the cucumber and melon family originally native to Africa. In 2000, Piper Halliwell contracted a deadly disease known as Oroya Fever after being bitten by a sand fly hidden in a crate of Kiwano she "imported" from South America. After a near-death experience and surviving the ordeal, Piper had the fruit sent back to its source.[1]
Notes and Trivia
Piper mentioned they tasted great in Mai Tais.
Smuggling the Kiwano fruit was necessary only to the plot, as it is grown in California, where the series takes place.
External Links
References