Charmed Profile: Jason and Kristopher Simmons
Play Sound
Jason & Kristopher Simmons are American identical twins who portrayed Wyatt Halliwell in seasons 5 to 8 of Charmed.
Biography
Jason Patrick Simmons and Kristopher Robert Simmons were born September 19, 2002 in Los Angeles, California to Maria and Robert Simmons. They are half Ecuadorian on their mother's side and understand Spanish. They have one older half-brother named Patrick and two little brothers, Rudolf and Kim, who also happen to be twins. They currently reside in Temecula, California (2016).
Career
Since May 2003 (uncredited), they have played the character Wyatt Halliwell on the TV series Charmed. Kristopher and Jason started on Charmed when they were about seven months old. They were only supposed to be in the Season 5 episode "Necromancing the Stone" but they were asked back starting with Season 6 and remained on the series until its end in 2006.
Gallery

Trivia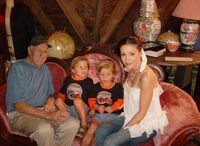 The case of twins playing one character is similar to how Mary-Kate and Ashley Olsen played Michelle Tanner in Full House, and to how Dylan and Cole Sprouse played Julian McGrath in Big Daddy.

This is not an uncommon practice when casting for child characters. Due to child labor laws, child actors are only allowed a limited time on set, so casting twins for a single character can allow the character more screen time.

When they were working on Charmed, the twins were scared to interact with the actors who played demons.
When the twins needed to cry for the show, their mom would just leave the room for a few minutes.
External links