Emrick was a powerful Krychek Demon identifiable by his distinctive neck tattoo. He was one of the victims of a deadly virus spreading across the magical community.
History
While at Magic School with the rest of Margoyle's gang, Emrick was attacked by another Krychek Demon who was infected with a virus. Emrick later confronted Billie Jenkins at the school, who was there looking for information on her sister. Billie threatened Emrick and asked him to ask around for information.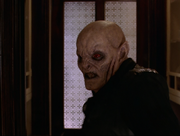 When the infection took hold of Emrick, he turned into a hulked out monster and attacked and infected Billie at the Halliwell Manor. Paige then orbed him back to the school, where he was found by his gang. A Soothsayer studied him and mentioned he lasted longer than any other demon. However, before he could finish the examination, Emrick died as a result of the virus.
Powers and Abilities
Active Powers
Shimmering: The ability to teleport through shimmering.
Fireballs: The ability to throw spheres of fire capable of vanquishing beings.
Appearances
Emrick appeared in a total of 1 episode throughout the course of the series.
Charmed

,

Season 8

#01
"Still Charmed & Kicking"
#09
"Hulkus Pocus"
#17
"Generation Hex"
#02
"Malice in Wonderland"
#10
"Vaya Con Leos"
#18
"The Torn Identity"
#03
"Run, Piper, Run"
#11
"Mr. & Mrs. Witch"
#19
"The Jung and the Restless"
#04
"Desperate Housewitches"
#12
"Payback's a Witch"
#20
"Gone with the Witches"
#05
"Rewitched"
#13
"Repo Manor"
#21
"Kill Billie: Vol. 2"
#06
"Kill Billie: Vol. 1"
#14
"12 Angry Zen"
#22
"Forever Charmed"
#07
"The Lost Picture Show"
#15
"The Last Temptation of Christy"
#08
"Battle of the Hexes"
#16
"Engaged and Confused"
Community content is available under
CC-BY-SA
unless otherwise noted.