The Empyreal Sword is a magical weapon originally meant to be used by Whitelighters to help fight against evil. However, after much discussion, the Elders came to the decision to lock away the object in order for the Whitelighters to be guides instead of warriors.[1]
Leo Wyatt became the owner of the sword, as well as its respective powers, after obtaining the sword inside a Vault located in the Upper Regions.[2] However, Rennek claimed control of it after accessing The All.[3] By stopping Rennek's malicious plans and merging with the sword, Prue Halliwell absorbed the sword along with the Grimoire and became the All.
The sword was presumably destroyed when Piper Halliwell stabbed Prue with the Ancient Athame.
History
Creation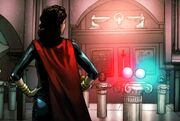 Over two thousand years ago, a family line known as the Bladesmiths forged the sword at the request of the Elders, who desired a weapon their Whitelighters could use to destroy evil. As the sword was being crafted, the Elders had heated discussions about whether Whitelighters should be warriors or just be guides to the magical community. In the end, they decided on the latter and decided to lock the sword in a vault located in the Heavens, hoping it would never be used.
Leo later retrieved the sword from the vault, and gained powers as he became tethered to it. The sword was prominent in his aid with the Charmed Ones against Neena's army. After some months, however, the magic of the sword was beginning to wane his body. It did not help that Rennek later used the sword and the Grimoire to gain control of the world's magic. Prue later merged her body with the sword and the Grimoire, gaining not only power of both items but also becoming the Nexus of the All. The sword is presumably lost when Piper stabbed Prue with the Ancient Athame.[4]
Powers and Abilities
References
Community content is available under
CC-BY-SA
unless otherwise noted.