Coolio (born Artis Leon Ivey, Jr.) played a Lazarus Demon in the Season 4 episode Marry-Go-Round.
Biography
Coolio was born in Compton, California. His nickname "Coolio" was initially a joke among his friends, who compared him to Latin singer Julio Iglesias.
He has a younger half-brother, Malieek Straughter, and has been married to his wife, Josefa Salinas, since 1996.
In 1996, controversy involving Coolio arose when musical parodist "Weird Al" Yankovic parodied his #1 hit "Gangsta's Paradise". Yankovic had been given the impression from Coolio's label that Coolio had granted permission for Yankvoic to record "Amish Paradise", but Coolio has since maintained that he never gave such permission. A few of the bridges have been mended, and the pair remain on amicable terms.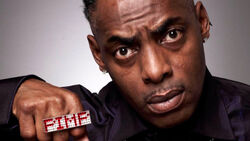 Career
Ultimate Big Brother (2010) (asked to leave 5 days within)
Big Brother (2009)
Daredevil (2003) (Director's Cut DVD only)
Charmed (2002)
Stealing Candy (2002)
Batman & Robin (1997)
External links
Community content is available under
CC-BY-SA
unless otherwise noted.