The Charmed Comics is the canonical continuation of the popular TheWB series Charmed. The series is published monthly by Zenescope Entertainment. In addition, a volume collecting 5-7 issues is made each time a story arch is completed.
The news was made official on March 15, 2010, but Zenescope had already put ads in several comics and one artist had released his test drawings. Alyssa Milano also informed Charmed fans of this news when she twittered that a comic was in the making.
"The process definitely took a little while and was in the works for well over a year. We were discussing all the potential storylines and details with CBS for quite some time and they also needed to make sure the lead actresses were all okay with us using their likenesses. The main thing was that we all wanted to make sure this was something we were going to do right so we didn't want to rush anything."
—Ralph Tedesco, Zenescope Editor-in-chief.
Early Discussion
"The series starts off about a year or so after the end of the last season," Gregory said. "The sisters are each off living their lives. They have had their well-deserved happily ever. But what they don't realize is that there might have been some serious consequences for vanquishing all that evil. Something is brewing in the Underworld. Something big!"
"
The key to this series success is to strike a nice balance in creating a brand new, intriguing storyline for fans of the television show while also not alienating Zenescope and comic book readers who haven't really followed it before but might want to now that it's a comic. The great thing is that Paul and Raven have done just that with this story arc. Anybody will be able to pick up this series and follow it whether or not they ever watched the show before. Moreover, fans of the show are going to be thrilled when they see where this story goes.
"

—Ralph Tedesco, Zenescope Editor-in-chief
12 Issues Planned
"
That depends on your definition of the word "planned. We started out with an initial arc of five issues that were pretty set before we even wrote one page of the first comic book. But we hope that arc is just the beginning of something bigger. We have plans that can take us in several directions depending on Zenescope's and CBS's approvals; the fan response and what we decide will ultimately work best for the line.
"

—Paul Ruditis, Charmed comics writer
The first season of Charmed Comics, season 9, debuted on July 21, 2010. It was written by Paul Ruditis and ran for 24 issues. It had its season finale on October 3, 2012.
Main Story Arcs
Resurrection of The Source: The season starts with a mysterious woman called Neena and a warlock named Hogan trying and ultimately succeeding to resurrect The Source of All Evil.
Neena's Truth Revealed: Neena is revealed to be the first witch, who plans to bring about a new world order by taking on The Upper Regions and uniting it with The Underworld. Neena builds her army which includes an old enemy of Leo's, a Darklighter named Rennek.
Finding Prue: Prue's whereabouts it finally discovered and Rennek sets up a potentially fatal meeting between her and Paige. The world in chaos due to their being four Charmed Ones, the sisters must find a way to put things back to the way it was prophecized.
The Magical Switch: Rennek has somehow stripped magic from the entire magical community and now mortals have the power. The sisters join forces with friends and family, old and new, in order to stop Rennek for good.
Season 10 was first advertised at the back of season 9's final issue, however it wasn't set to debut until October 9, 2014. The season debuted at New York Comic Con and is written by Pat Shand. Season 9 writer, Paul Ruditis stays on as editor. It had its finale on September 14, 2016.
Main Story Arcs
The Old Ones: The sisters are told of The Old Ones at the beginning of the season. Ancient demons so powerful that regular demons fear them.
The All: The sisters find themselves unable to be in Prue's presence. After some time of gathering resources, they realize Prue is not the guardian of The All—she is the All.
Cole's Death: The Halliwells suffer a major loss when Cole sacrificed himself in a battle.
Archai: Tyler Michaels finds out he is not a Firestarter, but an Archai with tremendous power. His experiments go horribly wrong when he gets possessed by multiple demons.
Heremus: In the final story arc, Prue is accidentally merged with the Old One Heremus and begins to pose a threat to the world. Old friends return to help the sisters in an epic battle that will change the world forever.
Characters
Main Characters
Recurring Characters
The Charmed Comics Crew
Writers
Season 9
Season 10
Cover Artist
Interior Artists
Art Submissions
To get the job, the artists had to sketch two pages for the comics. Marcio Abreu, who got hired after Dave Hoover left had to sketch two drawings of the sisters.
Getting the Rights
It took Zenescope about a year to get all the legal rights, including the right to use the actresses' likenesses. Alyssa Milano, Holly Marie Combs and Rose McGowan, all agreed to their likenesses being used. Later on it became clear that various other notable Charmed actors had allowed their likenesses to be used; including Brian Krause, Ivan Sergei, Victor Webster, Julian McMahon, Dorian Gregory, Finola Hughes, Jennifer Rhodes, James Read, Scott Jaeck,Kaley Cuoco and Rebecca Balding.
Alyssa Milano, who portrayed Phoebe in the TV series, was very excited about the comics, she said: "Well, I approved some of the artwork for the rendition of my character, and it looks awesome. I'm very excited. A show like Charmed has been such a lovely part of my life simply because the fans have been so loyal. That's why we were on the air for as long as we were, on a network that wasn't bringing in great numbers at the time. So I think that anything to continue the legacy that we had is awesome."
Upon much questioning from fans about whether Shannen Doherty's likeness would appear in the comics, Zenescope issued the following statement:
"Unfortunately Ms. Doherty has declined to be involved in the comic version of Charmed. This includes the use of her likeness. We had hoped that she would allow us to use her image and that we would be able to bring her into the Charmed comic book exactly as she was in the show but at this point that has become impossible. While Ms. Doherty's likeness will not be used for the character we are still very excited about the direction we are going with Prue and we hope that fans of Charmed will feel the same way."
—Ralph Tedesco, Editor in Chief.
Dynamite Comics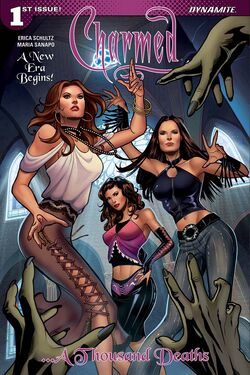 In October 2016, it was announched that Dynamite Comics would publish a new Charmed comics series in 2017. It was set during the TV show's 4th or 5th season.
"Charmed is a perfect fit for Dynamite for a number of reasons," says Dynamite CEO and publisher Nick Barrucci. "We have had tremendous success with cult television properties, and the Halliwell sisters will be right at home. Our plans for these new series are sure to please comics readers and die-hard TV junkies alike!"
In December 2016, the first issue of the series, "A Thousand Deaths", was revealed.
A dark force has set its sights on the art world of San Francisco and the only ones who can stop it are Phoebe, Paige, and Piper! Dynamite is proud to present a brand-new Charmed story by writer Erica Schultz (Swords of Sorrow: Black Sparrow & Lady Zorro, Revenge) and artist Maria Sanapo (Grimm, DC Comics Bombshells) that will CHARM returning fans and new alike!
The series came to an end in July 2017 after five issues.
Gallery
Ads
Official
This advert was originally going to be used as a cover, but was used as an advert instead.
Unofficial
Trivia
Alyssa Milano confirmed the news about the Charmed comics via her twitter on January 10.
An early Charmed comics cover was drawn by Eric Basaldua and colored by Steve Firchow in June. Basaldua confirmed it will not be used. Basaldua and Firchow are not part of the Charmed comics creative team.
The test drawings were all based on the show's promo pictures of the girls.
Ruditis loves the pun titles from Charmed and decided to continue this tradition with the comics.
Even though Holly Marie Combs has tattoos on her wrists during the show, there is no tattoo in the comics. Her tattoos are drawn for the first time in issue 11.
Returning are Billie who makes a cameo, Cole is a recurring character, and Prue made her long awaited return during issue 15.
External links
Interviews
Comic Con
Videos from the Charmed panel. Paul Ruditis, Raven Gregory, Ralph Tedesco and Milen Parvanov talk about Charmed and the comics.
Sellers
Community content is available under
CC-BY-SA
unless otherwise noted.