"You don't know my family, Father. Generations of evil. Evil that's in my blood."
—Brendan to Father Austin.
Brendan Rowe was the youngest of the Rowe brothers. Because his mother was mortal, he was more susceptible to good, unlike his brothers Greg and Paul. The three brothers were the last in a long lineage of powerful warlocks, culminating in the Rowe Coven, which was meant to be the evil version of the Power of Three.
History
Brendan spent most of his life trying to suppress his desire to kill, to the point that he couldn't even bring himself to kill a spider. He and his two half-brothers were destined to form an evil counterpart to the Charmed Ones. However, Brendan wanted no part of it, and spent many years hiding from his brothers to keep them from turning him.
By 1999, Brendan was in the midst of training to become a Catholic priest. He took this step to not only permanently rid his warlock side, but to make up for all the evil his family had done since the 10th century. Right before he was about to ordained, his brothers tracked him down in the hopes of completing their evil triangle. They confronted Brendan at the church, though they were interrupted by the arrival of Prue Halliwell.
After Prue scared off his brothers, Brendan fled. In an attempt to get answers, Prue asked Father Austin where she could find Brendan and tracked him down to the stables. At the same time, his brothers attacked the Father in an attempt to enrage Brendan. Prue then discovered his warlock nature, though Brendan convinced her to help him. Despite protests from her sisters, Prue agreed because she believed he was good.
Brendan initially thought he would have to kill his brothers, but believed he might have to embrace his warlock side to do so. Greg and Paul nearly got him to use that desire to kill an innocent woman they had kidnapped. However, the Charmed Ones were able to stop him in time. Prue took Brendan to the manor and they shared a kiss. Greg and Paul then cast a spell on Brendan to stir his warlock nature and caused Brendan to join his brothers. Greg then ordered him to sacrifice Prue and take her powers as proof. Prue, however, was able to break the spell by reminded Brendan the good inside him was stronger.
"Yeah, I know. After all these years, after everything I've given up to get here, a sacrifice never seemed greater than it does right now."
—Brendan to Prue.
When Brendan ultimately chose to become a priest, Greg tried to kill him by throwing an athame at him. However, Paul jumped in front of the athame, sacrificing himself for his younger brother. Mortally wounded, Paul threw the athame back at Greg, causing both brothers to be vanquished. After thanking the sisters and sharing a goodbye kiss with Prue, Brendan was then ordained as a priest.
Powers and Abilities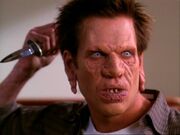 Basic Powers
Active Powers
Other Powers
Notes and Trivia
Appearances
Brendan Rowe appeared in a total of 1 episode throughout the course of the series.
Charmed

,

Season 1

#01
"Something Wicca This Way Comes"
#09
"The Witch is Back"
#17
"That '70s Episode"
#02
"I've Got You Under My Skin"
#10
"Wicca Envy"
#18
"When Bad Warlocks Go Good"
#03
"Thank You For Not Morphing"
#11
"Feats of Clay"
#19
"Out of Sight"
#04
"Dead Man Dating"
#12
"The Wendigo"
#20
"The Power of Two"
#05
"Dream Sorcerer"
#13
"From Fear to Eternity"
#21
"Love Hurts"
#06
"The Wedding from Hell"
#14
"Secrets and Guys"
#22
"Déjà Vu All Over Again"
#07
"The Fourth Sister"
#15
"Is There a Woogy in the House?"
#08
"The Truth is Out There... and It Hurts"
#16
"Which Prue is It, Anyway?"
Community content is available under
CC-BY-SA
unless otherwise noted.