Brad Kern is a television producer and writer. He was executive producer and show runner of Charmed for all eight seasons. After his alleged conflict with Constance M. Burge's, which ended in her departure, he became the leader of the production. Additionally, he directed the Season 4 finale "Witch Way Now?".
Episodes Written
Season 1
Season 2

Ex Libris (teleplay)
Be Careful What You Witch For (teleplay and story)
Season 5
Season 6
Season 7

Something Wicca This Way Goes...? (story and teleplay)
Season 8
Notes and Trivia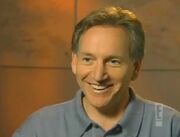 He's the only writer who has written episodes in all eight seasons.
He has become source of talk by fans because some think that he changed the show's style, thus destroying it, although others praise him for this change, and some even hold him responsible of Shannen Doherty's departure.
Brad made a little cameo during Charmed in the season 2 episode "Be Careful What You Witch For" as a realtor.
He currently has the Book of Shadows, which really upsets Holly because she claimed they had another deal about it.
See Also
External Links