Belthazor was the demonic alias of Cole Turner, a half-demon born to the demon Elizabeth and the mortal Benjamin Turner. He was a member of the Brotherhood of the Thorn and was hired by the Triad to kill the Charmed Ones. He was considered as a legendary demon who was a very powerful and dangerous soldier of fortune, known for destroying countless witches, innocents and demons.
History
Powers and Abilities
Active Powers
Other Powers
Adjusting: The ability to fight through inhibitory molecular powers.
High Resistance: The ability to be highly resistant to physical and magical harm and survive otherwise lethal attacks. He was one of the few demons who couldn't be vanquished by his own energy balls and was able to survive Piper's power of Molecular Combustion even in his human form.
Immortality: The ability to possess an infinite lifespan and an arrested aging process.
Through spell, potion, power stealing, etc.
Illusion Casting: The ability to cast illusions. Cole mentioned having learned a trick from the Demon of Illusion and appeared in Phoebe's favorite movie to let her know he was back.
Appendices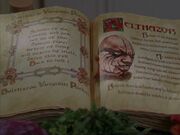 (Book of Shadows text:)
Belthazor
Beware of this Demonic
Soldier of Fortune. Both powerful and
dangerous, he has destroyed countless
witches, innocents, and demons.
As sinister as he
is intelligent, he is not to be trusted,
Belthazor's known abilities include
throwing energy balls and shimmering
from place to place, but his powers are
probably not limited to these capabilities.
Because there is no known way to defeat him,
Belthazor should be avoided at all costs.
Belthazor Vanquish Potion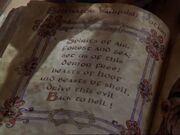 Spirits of Air
Forest and Sea
Set us of this
Demon free;
Beasts of hoof
And Beasts of shell
Drive this evil
Back to hell!
The ingredients of the potion can be found here.
To Summon Belthazor
This Spell forcibly calls Belthazor by Connecting
a Witch's Magic to this Demon's Magic.
Magic Forces
Black and White
Reaching out Through
Space and Light
Be He Far Or
Be He Near
Bring Us the Demon
Belthazor Here.
Gallery
Notes and Trivia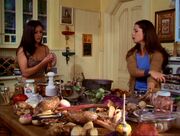 Appearances
Belthazor has appeared in a total of 10 episodes and 2 comic issues throughout the course of the series.
Charmed

,

Season 4

#01
"Charmed Again, Part 1"
#09
"Muse to My Ears"
#17
"Saving Private Leo"
#02
"Charmed Again, Part 2"
#10
"A Paige from the Past"
#18
"Bite Me"
#03
"Hell Hath No Fury"
#11
"Trial by Magic"
#19
"We're Off to See the Wizard"
#04
"Enter the Demon"
#12
"Lost and Bound"
#20
"Long Live the Queen"
#05
"Size Matters"
#13
"Charmed and Dangerous"
#21
"Womb Raider"
#06
"A Knight to Remember"
#14
"The Three Faces of Phoebe"
#22
"Witch Way Now?"
#07
"Brain Drain"
#15
"Marry-Go-Round"
#08
"Black as Cole"
#16
"The Fifth Halliwheel"
Charmed

,

Season 9

#01
"Charmed Lives"
#09
"The All or Nothing"
#17
"Family Shatters"
#02
"No Rest for the Wicca"
#10
"Three Little Wiccans"
#18
"Four's Company"
#03
"Innocents Lost"
#11
"Last Witch Effort"
#19
"Crossed, Triple-Crossed"
#04
"Mortal Enemies"
#12
"The Charmed Offensive"
#20
"The Old Witcheroo"
#05
"Unnatural Resources"
#13
"Piper's Place"
#21
"Reversal of Misfortune"
#06
"Morality Bites Back"
#14
"Cupid's Harrow"
#22
"Prue Ya Gonna Call?"
#07
"The Heir Up There"
#15
"Where There's Smoke There's a Firestarter"
#23
"The Darklight Zone"
#08
"Oh, Henry"
#16
"The Heavens Can Wait"
#24
"The Power of 300"
#00
"To The Warren Born"
Charmed

,

Season 10

#01
"No Country for Old Ones"
#08
"Love is a Burning Thing"
#15
"The Four Sisters, Part 2"
#02
"Magically Malicious"
#09
"Haste Makes Wasteland"
#16
"Happy Ending"
#03
"The Perks of Being a Whitelighter"
#10
"The Curious Case of Benjamin Turner"
#17
"Effigy"
#04
"Charmed Assault"
#11
"Fear Always Comes Back"
#18
"Tribunal and Tribulations"
#05
"Whatever Happened to the Demon with a Soul?"
#12
"Virtue"
#19
"Something Old, Something Prue"
#06
"Will o' the Witch"
#13
"Court of Love"
#20
"The Reason"
#07
"Hard Knox Life"
#14
"The Four Sisters, Part 1"
Community content is available under
CC-BY-SA
unless otherwise noted.