"Do you guys think it's weird that the Aurora Borealis is happening the night before the Wiccan Festival of Lights?"
—Paige to her sisters.
Aurora Borealis, also known as the Northern Lights, is a natural occurrence of lights in the night sky in northern regions of the world. It was named after the Greek goddess of dawn, Aurora, and the god of the north wind, Boreas.
History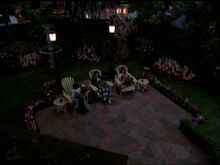 In 2003, an Aurora Borealis occured the day before the Wiccan Festival of Lights. The following day, magic disappeared and according to Phoebe, Jupiter, Mars and Saturn were all in Gemini, which happened only every three hundred years. It was later revealed by Merrill that all these signs were part of a prophecy predicting the arrival of the Twice-Blessed Child. When Wyatt was born, magic was returned to the world.[1]
Notes and Trivia
It is a rare occurrence for an Aurora Borealis to be seen in California.
External links
References
Community content is available under
CC-BY-SA
unless otherwise noted.