Arthur Casey
was a chaplain and the cousin of Kevin Casey, better known under his demonic alias
Sirk
, who sought to become fully demonic by killing all his mortal relatives.
History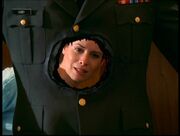 Sirk believed Arthur to be his last living relative and tried to kill him. However, The Charmed Ones intervened. When Sirk hit Arthur with an Energy Ball, Arthur was left with a giant hole in his torso. However, a protection spell cast by Paige kept him from dying. The Charmed Ones brought him back to the manor, though he later ran away to find his wife, Harriet.
Arthur later died from his injuries when the Angel of Death undid Paige's spell with help from Sirk, allowing the Angel to take his soul to the afterlife. When Sirk learned that Harriet was pregnant with Arthur's child, he tried to kill her and the unborn child, until he was vanquished by Phoebe.

Appearances
Arthur Casey has appeared in a total of 1 episode throughout the course of the series.
Charmed

,

Season 7

#01
"A Call to Arms"
#09
"There's Something About Leo"
#17
"Scry Hard"
#02
"The Bare Witch Project"
#10
"Witchness Protection"
#18
"Little Box of Horrors"
#03
"Cheaper by the Coven"
#11
"Ordinary Witches"
#19
"Freaky Phoebe"
#04
"Charrrmed!"
#12
"Extreme Makeover: World Edition"
#20
"Imaginary Fiends"
#05
"Styx Feet Under"
#13
"Charmageddon"
#21
"Death Becomes Them"
#06
"Once in a Blue Moon"
#14
"Carpe Demon"
#22
"Something Wicca This Way Goes...?"
#07
"Someone to Witch Over Me"
#15
"Show Ghouls"
#08
"Charmed Noir"
#16
"The Seven Year Witch"
Community content is available under
CC-BY-SA
unless otherwise noted.