"The Spirit of Rage has used his abilities to incite wars that lasted for decades and redefined continents."
— A brief description of Andras's past.
Andras was the Spirit of Rage, a malevolent spirit with the power to enrage others, by magnifying their anger, until they commit an act of violence. He was also very rageful himself.
In 2000, Cole Turner contacted Andras to help kill the Charmed Ones. However, because he loved Phoebe, his plan failed. When Andras took over Cole's body to attack the Charmed Ones, Prue accidentally separated them and Cole vanquished him.
According to the Book of Shadows, he was yet to become a full demon.
History
"Pissed off are you? Good. 'Cause there's something you don't know about me. I can possess my victims too."
—Andras before possessing Cole.
Cole called on Andras after finding out the Charmed Ones' powers were rooted in their bond as sisters. Andras used his power to turn long-simmering disputes between the Halliwell sisters into rage. Ultimately, the sisters' rage boiled over and caused a magically-amped catfight in which they used their powers against each other, severing their bond and causing them to lose their powers. This was reflected when the triquetra on the Book of Shadows separated.
Andras was suspicious of Cole's seemingly ambivalent demeanor, and it was confirmed when he saw him pass up a chance to kill Phoebe. He provoked Cole into becoming Belthazor and then possessed him. Andras then headed to the manor to kill the sisters, but his battle with them was unsuccessful as they had restored their bond. He was expelled from Belthazor's body when Prue deflected his own energy ball back at him. Belthazor then immediately vanquished him with another energy ball for crossing him.
Powers and Abilities
Active Powers
Other Powers
Temporary Powers
Book of Shadows
Andras
Andras, the Spirit of Rage, uses anger as a portal to enrage his
victims until they commit a grievous act of violence. Although
the rage leaves the victim after the act is committed, the violence
usually serves a greater purpose, making Andras a powerful foe.
The Spirit of Rage has used his abilities to incite wars that lasted
for decades and redefined continents.

In addition, due to the insidious nature of his work, Andras can
be extremely difficult to detect. But because he has not yet
ascended to full demonhood, this low-level spirit is vulnerable to
the powers of greater supernatural beings.
Notes and Trivia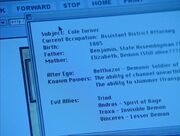 Gallery
Appearances
Andras appeared in a total of 1 episode over the course of the series.
Charmed

,

Season 3

#01
"The Honeymoon's Over"
#09
"Coyote Piper"
#17
"Pre-Witched"
#02
"Magic Hour"
#10
"We All Scream for Ice Cream"
#18
"Sin Francisco"
#03
"Once Upon a Time"
#11
"Blinded by the Whitelighter"
#19
"The Demon Who Came in From the Cold"
#04
"All Halliwell's Eve"
#12
"Wrestling with Demons"
#20
"Exit Strategy"
#05
"Sight Unseen"
#13
"Bride and Gloom"
#21
"Look Who's Barking"
#06
"Primrose Empath"
#14
"The Good, the Bad and the Cursed"
#22
"All Hell Breaks Loose"
#07
"Power Outage"
#15
"Just Harried"
#08
"Sleuthing with the Enemy"
#16
"Death Takes a Halliwell"
Community content is available under
CC-BY-SA
unless otherwise noted.