Amy Adams-Gallo known professionally as Amy Adams played Maggie Murphy in the Season 2 episode Murphy's Luck.
Biography
Adams was born in Italy to American parents, while her father was in the United States military, and raised with six siblings in Castle Rock, Colorado.
She began her Hollywood career with a supporting role in the 1999 film Drop Dead Gorgeous. In 2005, she earned her first Academy Award nomination for her supporting role in the independent film Junebug. A second Oscar nod followed in 2008 for her role in Doubt. She also gained fame for her lead role as a parody/amalgamation of various Disney princesses in Enchanted (2007).
On July 24, 2008, she got engaged to her boyfriend, Darren Le Gallo, and they had their first child in 2010, Aviana Olea Le Gallo. On May 2, 2015, she married Le Gallo in California.
Career
Film
Drop Dead Gorgeous (1999)
Psyhco Beach Party (2000)
Catch Me If You Can (2002)
Pumpkin (2002)
Serving Sara (2002)
The Slaughter Rule 2002
The Last Run (2004)
The Wedding Date (2005)
Standing Still (2005)
Junebug (2005)
Sunshine Cleaning (2007)
Underdog (2007)
Enchanted (2007)
Charlie Wilson's War (2007)
Enchanted (2007)
Doubt (2008)
Sunshine Cleaning (2008)
Miss Pettigrew Lives for a Day (2008)
Night at the Museum: Battle of the Smithsonian (2009)
Julie & Julia (2009)
Moonlight Serenade (2009)
Leap Year (2010)
Love & Distrust (2010)
The Fighter (2010)
The Muppets (2011)
On the Road (2012)
The Master (2012)
Trouble with the Curve (2012)
Man of Steel (2013)
Her (2013)
American Hustle (2013)
Lullaby (2014)
Big Eyes (2014)
Batman v Superman: Dawn of Justice (2016)
Arrival (2016)
Nocturnal Animals (2016)
Justice League (Post-production)
Television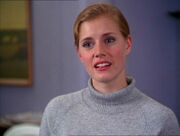 That '70s Show (2000)
Zoe, Duncan, Jack, and Jane (2000)
External links