Alchemists, also known as Alchemist Demons, are demons with the power of transmutation. They possess dark magic and use metaphysical tools to turn one substance into another. They also possess some control over the dead. Powerful Alchemists can even resurrect the dead.
History
Coyote Piper
Kierkan was a powerful Alchemist who created the life essence Terra as his companion. However, she escaped and eventually possessed Piper. She then used the Charmed Ones to vanquish him.[1]
Look Who's Barking
Another Alchemist assisted Cole Turner when he was after the Charmed Ones. He transmuted Belthazor's blood so be would be immune to the vanquishing potion.[2]
Death Becomes Them
A third Alchemist worked with the demon Zankou to weaken the Charmed Ones in the hope to retrieve the Book of Shadows. This Alchemist could only control the dead, not resurrect them. He was eventually betrayed and vanquished by Zankou.[3]
Powers and Abilities
The powers of Alchemists greatly vary among their kind. Kierkan is the only Alchemist shown to be able to resurrect beings independently. Furthermore, Kierkan was a powerful Alchemist that could only be vanquished by the Power of Three, while the third Alchemist was vanquished by Zankou.
Basic Powers
Spell Casting: The ability to cast spells and perform rituals. Kierkan and Terra could use a spell to resurrect the dead.
Potion Making: The ability to brew potions.
Active Powers
Other Powers
High Resistance: The ability to possess high resistance to magical and physical harm. Only the Power of Three could vanquish Kierkan.
Immortality: The ability to possess an infinite lifespan and an arrested aging process.
Known Alchemists
Appendices
(Book of Shadows text:)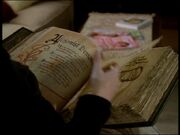 Alchemist Demons
Using metaphysical tools and
Dark Magic, Alchemists can
transform any substance into
another.
For example, an Alchemist's
evil Powers can turn Water
into Gold and Energy into
Matter.
Similarly, these demons also
have the innate ability to
transform the Dead into the
Living by calling the Souls
back into corpses.
Spells
Alchemist Resurrection Spell
Caducas Ex Animas Vita Ethos Anima
Let flesh be flesh
and bone be bone,
The Alchemist shall transform none.
Cruel scientist of evil borne,
with these words face the fire's scorn.
Appearances
Alchemists appeared in a total of 3 episodes throughout the course of the series.
Charmed

,

Season 3

#01
"The Honeymoon's Over"
#09
"Coyote Piper"
#17
"Pre-Witched"
#02
"Magic Hour"
#10
"We All Scream for Ice Cream"
#18
"Sin Francisco"
#03
"Once Upon a Time"
#11
"Blinded by the Whitelighter"
#19
"The Demon Who Came in From the Cold"
#04
"All Halliwell's Eve"
#12
"Wrestling with Demons"
#20
"Exit Strategy"
#05
"Sight Unseen"
#13
"Bride and Gloom"
#21
"Look Who's Barking"
#06
"Primrose Empath"
#14
"The Good, the Bad and the Cursed"
#22
"All Hell Breaks Loose"
#07
"Power Outage"
#15
"Just Harried"
#08
"Sleuthing with the Enemy"
#16
"Death Takes a Halliwell"
Charmed

,

Season 7

#01
"A Call to Arms"
#09
"There's Something About Leo"
#17
"Scry Hard"
#02
"The Bare Witch Project"
#10
"Witchness Protection"
#18
"Little Box of Horrors"
#03
"Cheaper by the Coven"
#11
"Ordinary Witches"
#19
"Freaky Phoebe"
#04
"Charrrmed!"
#12
"Extreme Makeover: World Edition"
#20
"Imaginary Fiends"
#05
"Styx Feet Under"
#13
"Charmageddon"
#21
"Death Becomes Them"
#06
"Once in a Blue Moon"
#14
"Carpe Demon"
#22
"Something Wicca This Way Goes...?"
#07
"Someone to Witch Over Me"
#15
"Show Ghouls"
#08
"Charmed Noir"
#16
"The Seven Year Witch"
References
Community content is available under
CC-BY-SA
unless otherwise noted.